Health Minister Maithripala Sirisena has defended the amalgamation of two premier State bodies responsible for the purchase and the manufacturing of medicinal drugs saying inefficiency and the lack of coordination between them led the Government to take the decision.
The Minister's remarks and the amalgamation of the State Pharmaceuticals Corporation and the State Pharmaceutical Manufacturing Corporation came as authorities grapple with urgent measures to deal with a life-threatening drug shortage in public hospitals.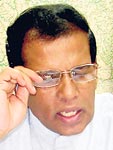 Maithripala Sirisena
The Sunday Times learns that the problem was compounded by the import of substandard drugs from some companies in India and other countries and by the Government's failure to foresee the crisis and find a quick solution.
Minister Sirisena told journalists this week that the Government decided to merge the two corporations under a new chairman and a board of directors to prevent another drug crisis in public hospitals.
He also revealed that the Government had also taken a decision to produce locally several medicinal drugs and saline instead of importing them.
Apparently distancing himself from any blame, Mr. Sirisena said the crisis predated his appointment as Health Minister and he had, soon after assuming office, immediately appointed a committee to look into the issue.
He said this committee comprised the Health Ministry Secretary, the Treasury Secretary, officials from the State Pharmaceuticals Corporation (SPC), the Medical Supplies Division and the Bank of Ceylon.
He said that in addition to these measures, a Presidential task force that was studying the crisis would meet on Tuesday and by Wednesday the problem would be sorted out.The Minister also said the Health Ministry would ensure that there was transparency in drug tenders and purchases.
"There is a drug mafia in the world today but I will ensure that all the drug purchases are done in a transparent manner," he said. Asked about substandard Indian drugs, the Minister said the Government had decided to buy drugs only from companies approved by the Indian government.