A 32-year-old-woman, the mother of two, who was evicted from her temporary roadside house at the Embuldeniya junction, in Mirihana, now lives inside a bus shelter. She lost her home in the recent operation to remove unauthorised structures in the city and the suburbs.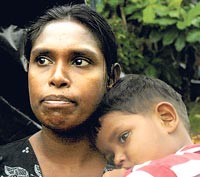 R.M. Chandralatha.
The woman, R. M. Chandralatha, says the Maharagama Urban Council had promised to give her a cart so she could work as a vendor. She says she has received no help so far from the Urban Council or any local authority.
"My husband died a year ago, and I was making a living selling thambili by the wayside," she told the Sunday Times. "I had a temporary home by the road. Now I have nothing, after my temporary home was pulled down, and I have no place to go."
She does not know when she will be told to vacate the bus stand. Wherever she goes, she is chased away, she says. "I have written an appeal to the President, asking for a temporary shelter or some space to put up a shop," she said.
"I cannot go from house to house selling things. People will think I am a beggar, with children. By law, we could be arrested. I have no money, and no way of making an income.
"All I want is a temporary place to stay so I can earn a few rupees to feed my children and myself," she said.