Sri Lanka has an educational system of high standard compared to most Asian countries. However the elite of our society have a tendency to divert their children to international schools for many reasons other than the education system, such as to maintain prestige, etc.
Children passing out from government schools are however more inclined to be patriotic, with Sri Lankan qualities and a feeling towards religion, the mother tongue and culture, whereas those from international schools are more inclined towards the western way of life and look forward to be global citizens.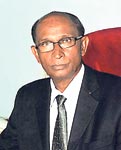 Dr. Wilfred Wijesinghe
In 2003 Sumedha College Gampaha, was inaugurated with an aim to produce high quality Sri Lankans capable of representing the country in the international arena.
To achieve this goal Sumedha College Gampaha has adopted the following methodology:
In the primary level (Grade 1 to 5) the basic subjects are taught in the mother tongue of the child. Primary education which is basically to differentiate the good from the bad, love for the environment, plants, animals, proper introduction of religion etc., can effectively be achieved only through the mother tongue, as the medium of instruction.
The reason for this is that the mother tongue is in the blood and genes of a child. It is the first language that a child becomes familiar with when he is in the mother's womb. So that's the best language that he will understand.
The other school of thought is that no teacher with any depth of knowledge in English will be able to instill the basics of life into the heart of a tender child in a language foreign to the child. This is why all developed countries use the mother tongue as the medium of education at pre and primary levels. Foreign languages are used as the medium of education only after primary education, if necessary.
At Sumedha College English is taught as a subject from Grade 1 onwards. For this there is a separate English Department with well trained English teachers who are entrusted with the task of teaching the subject. We also concentrate on leadership training, a variety of extracurricular activities, sports such as swimming, badminton, cricket, chess, gymnastic, dancing, music, scouting, debate teams, organic agriculture etc., giving the child the opportunity to select an activity he enjoys most and which will help mould him into a complete person.
At Sumedha our proud history is taught from the very early stage. Furthermore our national and religious festivals are duly observed and celebrated according to the calendar.
Junior section of Sumedha College (Grade 6 to 11)
Junior section follows the government bilingual syllabus.Maths, Science and Health Science are taught in the English medium. English language and computer science are compulsory for students at the Government Ordinary Level exams. It is envisaged that the introduction of the bilingual syllabus at the junior level will be helpful to students who opt to continue their Advanced Level and university education successfully in English.
Why do we bring up a child? It is a question that every parent must ask themselves. In a sense, some of the reasons are as follows:
Having a child is a supreme enjoyment for an adult.
It is a natural instinct for an adult to enjoy the babyhood and early childhood of the child.
Parents get a mental satisfaction when children do well at exams, sports and extracurricular activities.
We too are happy when children appreciate our ways and values. Furthermore we get a mental satisfaction when they are religious and proud of their mother tongue.
Lastly, when you are feeble and find it difficult to fend for yourself if you have a child of your own around you it would certainly bring you happiness.
Excepting the first and second points mentioned above all the other qualities that your child attains would depend on the education he gets. In other words, at the end of the day, education will decide to what extent you will be able to enjoy the child of the future.
The child who is brought up with an international education embracing the western culture will certainly not have time for you when you really need him. If you wish your dreams to come true, of what you expect your child to be, give your child an international level education with a Sri Lankan touch.
For further details please refer our web site. www.ydc.lk
Dr. Wilfred Wijesinghe,
MBBS (Cey) MRCP (U.K.)
ECFMG (U.S.A.) FCCP (Sri Lanka)
Chairman - Sumedha College
Gampaha