One of the most strategic collaborations between a US school and a Lankan institute of higher education was launched on May 13, 2010 at the SLIIT main campus in Malabe.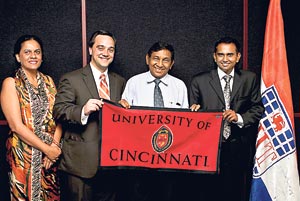 In the picture are Prof. Sam Karunaratne Chairman/SLIIT, Jonathan Weller Director International Admissions/UC, Dr. Malitha Wijesundara/Head Dept. of Electronic & Computer Engineering/Head IT Services and Priyanthi Dissanayake.
- Pic. by Keith Klenowsk
Sri Lanka's top private IT campus SLIIT teamed up with University of Cincinnati (top hundred US Public University/among the top 25 public universities for research in US and among the top 200 global research universities) enabling SLIIT students to transfer to Cincinnati after completing two years at SLIIT.
Such transferees would become entitled to one year of paid professional work experience as "co-op" students (UC is the pioneer of cooperative education in US initiated in 1906 and has almost 5000 co-op students in 40 disciplines working with 1500 employers) and earn a Bachelor's degree from UC (one of the first of only 10 ABET accredited IT programmes in US).
Such graduates are also likely to be able to work for an additional year in US upon graduation under Optical Practical Training (OPT) making them highly employable back in Sri Lanka or globally. This is another collaboration initiated by Priyanthi Dissanayake (www.scholarshipsforusa.com) who represents UC in Sri Lanka and who is passionately committed to providing increasing opportunities to Lankan youth through collaborations with US Universities.