Nothing could have abstracted me from the ultimate luxury of the Taj palaces around India, but the whiff of something cooking in distant Colombo. It suddenly struck me that it was that time of the year again, for the legendary Chettinad Food Festival that the Taj Samudra's Navaratna hosts annually.
And Chef Krishnan flown over from the Taj hotel in Chennai did not disappoint. The retiring young chef did not speak a language that I could communicate with him but suffice it to say that the food spoke for itself.
The overture was Kulir Paanangal. And what a refreshing assortment of exotic drinks this turned out to be. Hesitating between the Vasantha Neer (tender coconut water with honey, mint and lemon) and Paanagam (an exotic concoction of jaggery, dry ginger and tamarind), I accepted the restaurant's new chef, Chef Chauhan's recommendation of the former, which was so excellent that I can only regret I never got round to sampling the latter. Sigh…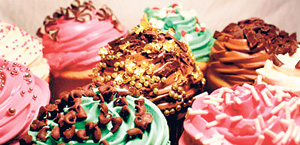 Sweet temptation: Cupcakes galore at Cinnamon Lakeside
The superb offering of starters was rather mellifluously introduced on the menu as Arambham. I simply didn't have enough of the pickled idli tossed in molagaipodi (don't ask me what that is…) because I had to get on with the very wonderful Parappu vadai and the spiced bonda-like Kuzhi Paniaram.
But it was the melt-in-your mouth appams that catapulted me to a culinary crescendo. The Chettinad version is not quite like its Sri Lankan counterpart, despite obvious similarities. I even had three appams with copious cups of Kaikari Thengapal curry, a sort of coconut-based vegetable stew (also available with the chicken variant), the classic accompaniment with appams. And then could not do justice to the tangy lemon rice that Chettinad cuisine is so famous for.
However, after a brief interlude the epicurean music resumed to a new movement with a selection of spiced curries and lentils in bases made of coconut and/or spices. Amongst my favourites was a capsicum and baby potato preparation cooked in a dry spicy masala. Whilst this sounded dismayingly banal on the menu, Chef Chauhan rightly insisted that it be essayed. Unforgettable too was the much-hyped Kootu (vegetables tempered with lentils and coconut). However, one of the most unusual dishes was the conjugation of fresh mash of greens and lentil with a dash of garlic. Seafood had a swimming selection including the stellar Kal Era (lobster cooked to your choice in mild coconut curry or onion tomato masala or pepper). The other hot favourite was, and is quite literally hot, the Era Manga Kozhambu (fresh prawns cooked in spicy raw mango gravy).
After sampling such a stupendous variety of appetizers and mains, needless to say, I had no appetite for dessert. However, I did have a tasting of the rather more adventurous-sounding Rosuppu Gulkandu (a combination of rose petals, dates, honey and white pumpkin). It was rather an interesting sweetmeat, certainly worth the discovery. I did think that Chettinad cusine gives very big names to what is essentially rather simple, although simply delicious, creations.
Colombo seems to be in the throes of food promotions. On this trip to Colombo I also made the fortuitous discovery of the Hopper Nights at the Cinnamon Lakeside, largely sold-out al fresco, lawn evenings. This is only understandable given that the loveliest thing about Sri Lanka, at least to us from oversees, is the local cuisine. And it is reassuring to see that the Sri Lankans think so too, given the healthy majority of Sri Lankans at dinner. The buffet was a sprawling assembly of Kottu rotti, string hoppers, biriyanis and of course, hoppers.
At the Cinnamon Lakeside's just-launched and quite criminal cupcake promotion meanchile, Chef Jagath lures with a bewildering variety of 15 sweet and savoury delicacies. Choices choices... Including Chocolate chip (everyone's favourite), Cashew nut (one of my favourites)Vanilla, Orange, Blueberry, Banana, Oats, Lemon, Cherry, Raisin, Ginger, Sweet and garlic, Sweet and sour, Sweet and spicy and Sweet and onion (an innovatively extraordinary take on the local seeni sambol). All the more surprising during the month of Lent. Well, I suppose you will have to just choose something else to sacrifice this Lent. That way you can eat your cake and have it also!