Yolande Bavan says she would like the tempo up a bit, and the pianist resumes playing, this time taking the piece at a livelier pace than the first time around.
The two musicians were rehearsing on Wednesday at the Yamaha Music Centre for tonight's concert at the Hilton Hotel. Earlier in the evening they were joined by a guitarist and a drummer. While singer and pianist had performed together previously, at the Sri Lanka National Day Concert in New York in February, Ms Bavan was working with the guitarist and drummer for the first time. They have been rehearsing daily since Wednesday.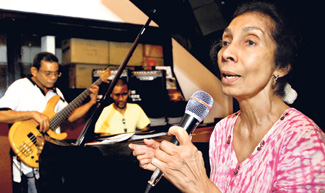 Yolande Bavan rehearsing at the Yamaha Music Centre for tonight's concert at the Hilton. Also in the picture are Dinuk Wijeratne, piano, and Alston Joachim, guitar.
The song that needed to go a little faster concerns a blackbird, and is a blending, or rather splicing, of two classic songs – one jazz, one pop – that have been magically fused and transformed in an original arrangement by Ms. Bavan. At one point, the pianist indicated that he favoured a different harmonic shift and played around with chords. Ms. Bavan urged him to go ahead.
The Sri Lanka-born singer, who had met us at the Hilton the day before, just hours after arriving from New York, says she is ecstatic to be back in her homeland. She is here, she says, to give her first "big, serious" concert in Sri Lanka. There was another gig, 35 years back, but that was too long ago to matter. For some elusive reason, the opportunity to give a concert here never seemed to materialise.
"I had this yearning to come and sing here," she says. "I thought, I have sung all over the world, won awards all over the world, so how come I'm not singing in my own country, to my own people? The picture was not quite right. Coming to give a concert here was just a dream inside of me.
"I have two very close Sri Lankan friends, Ruwani and Priyan Fernando. We live in New Jersey. I was at their home for a dinner party, some five or six years ago, and I mentioned that I had never sung in my country, and my friends said, well, you must go, and we promise you will go.
You have to do this. Then other friends in our Lanka-New York circle called four years ago to talk about a concert, but nothing came out of it. And then, when we once again discussed the concert, with Niranjan Nugara and Jehan CanagaRetna, somehow the time seemed right. The little seed sown at that dinner years ago has germinated, and I hope it will flower on Sunday."
One reason for the delayed public appearance here, she suggests, is that jazz and Sri Lanka are not exactly synonymous.
"I felt disappointed that nobody in this country really acknowledged me. I'm not saying they had to. I thought perhaps it had to do with jazz in this country. Sri Lanka is not that jazz-oriented – certainly not when I was growing up here. It was esoteric, in a way. So I kept getting disappointed. I was singing in London, I was singing everywhere, but nobody ever called me and said why don't you come and sing here? This is why this concert is so miraculous."
Whether jazz is hot or not in Sri Lanka should not have been used as an argument to discuss whether or not, or when and where, to showcase the considerable talents of Ms. Yolande Bavan, a jazz great by any standard.
When Yolande left Ceylon at the age of 16 to test her singing potential in Australia, a visit that led to a fortuitous meeting with the famed jazz pianist Graeme Bell, she could not have known that she had embarked on a life journey – Australia in '56, London in '57, New York in '62 – that would consolidate her career as a musician and take her to the heights of jazz fame.
The great breakthrough came when she was recommended (by no less a person than jazz great Sarah Vaughan) to replace Annie Ross in the US singing trio Lambert Hendricks and Ross, comprising Dave Lambert, Jon Hendricks and Annie Ross. The trio is credited with having "revolutionised vocal music in the late '50 and early '60s" by embracing "the sheer musicianship inherent in vocal jazz ".
When Annie Ross fell ill and was unable to rejoin the trio, Bavan was thrust into the limelight. On an invitation to audition for the trio, Bavan flew from London, where she was working as a stage actress, to New York. Before she knew where she was, she was on stage as part of a renamed jazz act – Lambert Hendricks and Bavan.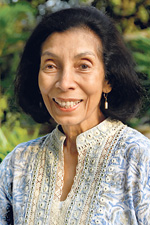 Happy to be home: Yolande Bavan
"I went to America on the 5th of May, 1962, to sing. I had not been singing that kind of music in England, where I had been acting and doing a revue or two. They invited me to come and replace Annie Ross. I thought, okay, but I don't know what I'm going to do there.
I don't sing that kind of music. You really need an extensive range. So, I thought, they'll hear me sing, rehearse with me, and decide it's a big mistake. But I had my return ticket, so I would look at the skyscrapers and go back to London, where I was living quite comfortably as an actress."
Bavan was signed on instantly. "Being with the trio was just the height of everything. That was the top jazz trio in the world. My experience from then on was amazing. Miles Davis, John Coltrane, Ellington. And I was like a real 'game kella'. In a way! But that really put me on top. And from that I started getting praise, and also singing solo."
That Yolande Bavan would have had it in her to soar to the top would have been declared a foregone conclusion by those who knew her as a child, and her family. Her mother Yolande Walles was a concert pianist.
Her father, Edgar Wolfe, though not a musician, had an uncanny ear for music, and knew greatness when he heard it. As a schoolgirl Yolande would sit with her father by the radio and listen to Willis Conover on Radio Tangier presenting American jazz to the US troops and the rest of the listening world. Edgar would tell his daughter to hearken to the "angels singing" in the voice of Sarah Vaughan, and hear the "pain" in the voice of Charlie Parker.
(That very Sarah Vaughan would play a key role in Yolande's future: "It was because of Sara Vaughan that I went to New York to join Lambert and Hendricks. We were friends. She had recommended me. These guys had never heard me sing.") Yolande started piano lessons under her mother at the age of two-and-a-half, and mother and daughter would play duets of the music of Rachmaninoff and Tchaikovsky. Her parents divorced when she was nine years. (An Indian friend in her theatre set gifted her with the stage name Bavan.)
In a way, music sustained the family, through good and not so good times. Bavan is eloquent when she talks about the essential place of music as a galvanising, spiritual force, and the power and reach of the human voice.
"I really believe that music is the greatest, the highest energy there is. And you don't have to verbalise anything. Take Louis Armstrong, for example. He'd just go doo-do-doo-daa-da-daa, but something communicates to people – in Africa, in Sweden. I think music is the highest energy there is. And vocal music is the highest of all, because it's coming from within oneself.
"People don't realise that when you are a singer, you are using that same instrument all day – to talk, to shout, to fight, to argue, whereas a bass player doesn't have to carry his bass to go into the street and take a taxi. This instrument, the voice, is so extraordinary.
"Music is what helped me present Sri Lanka to people. When you are singing, it's really from straight within. And you are singing for – if that is the word – God. I don't say you have to believe in God, but I believe there is some divine, supreme energy, which is stronger than us.
"It's a gift, and I feel a certain responsibility. When you are given a gift, you should share it. And with music it's easier to do because music touches everybody. It doesn't have to be jazz. It could be Chopin."
In all the years that Yolande Bavan has been away from her homeland, she has not for a day put Sri Lanka out of her mind.
"I always feel blessed that I was born here. Everywhere, even singing with the trio, I wore saree. Always. When I was brought into the trio, the whole jazz world in America wanted to know who that woman was. It worked out well, because the racial prejudices at that time in the United States, in the '50s and '60s, were very rampant. The prejudices applied to jazz too, because of the drug scene.
Every time you said jazz, they thought of people taking drugs, shooting heroin, lying in the gutter. The irony was that when Lambert Hendricks and Ross were together – and they were major innovators, they changed the whole style of jazz singing, especially group singing – all the time they were together and winning all those awards, they never got on the major TV shows, like the Tonight Show, the Merv Griffin Show, the Johnny Carson Show.
The only person who put them on was Steve Allen, who was the most far-sighted TV persona. Steve Allen was also a good pianist, and he wrote a song called, 'This Could Be The Start Of Something Big'. He was the only person who put Lambert Hendricks and Ross on a TV show – on the Steve Allen Show. What they objected to was a white woman standing next to a black man, and a white guy on the other side. This was rampant in other arenas too, like sports. When I joined the group, nobody would say anything, because they didn't know who that person was, in a saree. Nobody made any racial slur. I was on every TV show.
"Every time I did a play, we would have a gathering where the actors announce themselves and talk about their theatre background, and I would always say, 'Yolande Bavan hails from Sri Lanka.' I never leave Sri Lanka out of it."
Bavan should be credited with playing an unofficial role as ambassador for Ceylon, and later Sri Lanka, uninterruptedly for four-and-a-half decades. In fact, she would like to play the role in an even deeper sense, at a wider level, if she had the opportunity. She believes she has something to offer Sri Lanka's internationally mobile young people. "I would love to be an ambassador without portfolio for this country. I have been in this for so long now. I have always conducted myself with dignity and integrity, and am able to mingle with anybody, from anywhere, whatever status they are.
I would like to do some work, actually. Perhaps come back to Sri Lanka once a year and stay two or three months. I would like to help the young people here who are going overseas to join a very global community. We have become global through the internet, and so on. I feel that when people go from here to over there, they should represent this country on a global level, not on a local level. A level at which we can all communicate equally.
"I've been to many parties in New York City and I find some of that communication wanting. I would like to do something to help bring our young people to that global community level. It's fine to be ethnic, but we must also know that we are in the 21st-century. I don't mean that everybody has to talk with a British accent, or something. But there is a demeanour that is very important. It's like the carpet on which everything rests. We should be on the same level of political correctness – politically, socially, culturally."
Bavan envisions something in the nature of master classes for young people in speech, communication, body language, decorum, deportment.
"Maybe bring our young people to see that being brilliant only in computers and computer science and banking is not sufficient. It's how you present yourself. That's what helps the communication. That's what makes us come closer together. Those we meet and mingle with need to understand us and know that they are understood. It's a mutual thing. And there's a way of doing things. Now that the country is starting anew, we have to rise with that in what we do. I really would like to be an ambassador without portfolio."
With a life that has been full to overflowing with singing and acting – she has a string of stage, television and film credits to her name – does Bavan have any unfulfilled artistic dreams?
"Oh, of course. Any artist must have unfulfilled dreams. Coming here is the fulfillment of a major artistic dream. I am so happy to be here. I would like to be a part of the rebirth of this country. It's like a phoenix rising out of the ashes. It's wonderful. I would like to be a part of it, and do my share. I am excited to be here. I see a burgeoning.
"The changes that have taken place here over the years have not necessarily been peaceful ones, but hopefully now things will change. There is always hope. It's interesting. This country was called Serendib, which gave us the word serendipity. I have had such a serendipitous life. Just coming to give this concert is serendipitous."
We step out into the afternoon sunshine and stroll through the Hilton garden. Bavan looks up and points to her hotel room window. "Looking out of my window, I recall walking with my mother along the Galle Face esplanade on Sundays. Stuff like that."
Her attention is drawn by a large presence of crows, resting in the low branches of trees growing by a pond. She reaches for her camera. "Dear birds," she murmurs. The crows seem to have brought back memories. She looks at them a long time. Perhaps she is singing in her mind a line about blackbirds: "Blackbird singing in the dead of night / Take these broken wings and learn to fly / All your life / You were only waiting for this moment to arise".
She takes a photograph of a trio of crows sitting on a branch of plumeria. "I'm trying so much to just be in the moment, because I feel that that's all we have. And the moment is here. Now. When I was on the plane today, and I heard the wheels touch the tarmac, I wanted to cry. Finally, I am truly going to sing here. This Sunday."
"A Jazz Evening with Yolande"
Yolande Bavan performs at the Hilton Colombo this evening. She is accompanied by Dinuk Wijeratne on piano, Alston Joachim on guitar, and Christopher Prins on drums.
Presented by JC's Entertainment, the concert starts at 7.30 p.m., preceded by cocktails and drinks from 6.45 p.m. Limited to a maximum 450 guests. For ticket enquiries, call Jehan at 07777 5159.
The concert is a fund-raiser for The Sunshine Charity, a non-profit organisation dedicated to helping needy Sri Lankan children. These include children at the Ceylon School for the Deaf and Blind, Ratmalana, and children affected by the tsunami, the ethnic conflict and poverty in Trincomalee.
The Sunday Times, Daily Mirror and Hi Magazine are the print media sponsors for Yolande's concert.