I made some observations on polling day at the last Presidential election. Senior citizens are made to stand in long lines to cast their vote. True, some people allow old folks to move up to the front of the queue, but this happens only because of the kindness of people.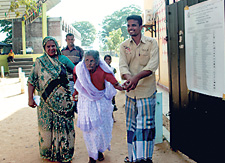 Family members helping an elderly voter at a polling centre in Puttalam at the recently concluded presidential election
Why not make it mandatory that all persons over 70 years be allowed to be in the front of the queue?
Some polling booths are set up in inaccessible spots. In Kandy, for example, the polling booth at Kingswood College is at the top of two flights of steps, posing a challenge for those with heart problems and walking difficulties.
Ideally, polling booths should be at ground level, wherever possible, or voters with health problems should be able to cast their vote at the closest voting centre.
Pat Jayatilleke