Jaffna, home to one of the largest libraries in Asia at one time, the famous Nallur Kovil and Durraiyapah stadium, was the next location for the CIMA Spellmaster Season 2 competition and was one of the most anticipated of the lot. The journey to Jaffna was an unforgettable one to those who travelled all the way to conduct the Quarter Finals for those students of the Northern Province. The 56 competitors, all from war torn areas, who took part that day excelled our expectations.

Students from Mannar, Jaffna, and Vavuniya assembled at the Jaffna College Undergraduate Department on a very rainy day to compete against each other for 11 places to the semi finals that were to be held in Colombo. Adding to the excitement, this year's contestants had to go up against two contestants who were within the top 10 in the finals last year, Gaajathry Manoharan from Udupiddy Girls' College and B.Kapilan from Hartley College.

We had 17 contestants get both words given out to them right in the 1st round. These 17 had to go up against each other until we got the desired 11. Ten contestants got through after the 2nd round leaving one more place for the remaining 7 to fight for. After 3 more rounds of words, 2 contestants remained and had to battle it out for the one place at the semi finals that was up for grabs. It was Usshanthi Pulenthiraraj from Vadamaradchy Central Ladies' College up against B.Kapilan from Hartley College who had experienced the competition last year. Both of them were neck-to-neck for the next five rounds and at the end of this action-packed competition, B.Kapilan was the last one standing securing himself a place in the semi finals this year as well.

In an unexpected turn of events, we had a competitor who qualified to the semi finals bowing out of the competition due to personal reasons and displaying the true spirit of sportsmanship by offering his place in the semi finals to Usshanthi Pulenthiraraj who put up a fight in the final rounds.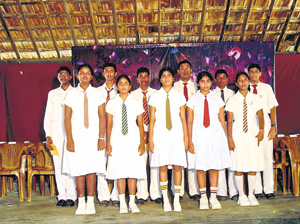 following are the names of the students who qualified for the semi finals and their respective schools
J. Laxshi Chundikuli Girls' College
B. Kapilan Hartley College
Kalina Sivarajah Methodist Girls' High School
Nivethika Jeyakumar Rambaikulam Girls' Maha Vidyalaya
Solomon Rajaram Hariharan St. John's College
Mathyamuthan John Priyanth St. John's College
S. Chelvaniththilan St. Patrick's College
Gaayathry Manoharan Udupiddy Girls' College
Ushanthi Pulenthiraraj Vadamaradchy Central Ladies' College
Sivakumaran Gauthaman Vavuniya Tamil Madhya Maha Vidyalaya
Paranthaman Rajeevkaran Vavuniya Tamil Madhya Maha Vidyalaya
Sumitha Sivasubramaniam Vembadi Girls' High School