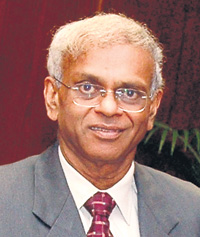 Aside from being a renowned economist Mr. Wijewardena has been associated with both local and foreign universities and professional bodies for more than two decades in promoting education and educational standards. As the Director of Studies from 1987 to 2000 and later as the Chairman from 2000 to 2009, he was instrumental in developing the Institute of Bankers of Sri Lanka to be a reputed training centre. He has taught several generations of students of the University of Sri Jayewardenepura, University of Colombo, PIM and IBSL since 1979. He took a keen interest in promoting CFA, IIA and ACI qualifications for financial analysts, internal auditors and forex dealers in Sri Lanka, respectively In addition, he was also responsible for the modernisation of the Central Bank of Sri Lanka during 2000 to 2005, rebuilding the Employees' Provident Fund on modern lines after it was destroyed by the bomb blast of 1996 and successfully completing the first ever microfinance project, namely, Isuru Project, undertaken by the Central Bank.
Leading economist and top educationist, W A Wijewardena has joined BMS as its Chairman in an honorary capacity from January 2010.

He was a career central banker and a well known educationist both at academic and professional levels.

At the Central Bank of Sri Lanka, he held the positions of the Deputy Governor of the Central Bank, Chairman of the Institute of Bankers of Sri Lanka and Chairman of the Sri Lanka Accounting and Auditing Standards Monitoring Board during 2000 - 2009.

BMS considers Mr. Wijewardena's association as a privilege and also a means of adding value to its reputed name in the field of specialist UK education in Sri Lanka.

The universities with which it has academic and recruitment alliances range from UK's top tertiary education providers such as Universities of Leicester, Aston, Northumbria, Surrey and Bangor.
Northumbria University has recently appointed BMS as the Regional Centre for Sri Lanka and Maldives in recognition of its long term relationship and high quality services.

Mr. Wijewardena will steer BMS into its new generation academic development as a tertiary education provider in both Sri Lanka and Maldives.

As Chairman, he will lead the Academic Advisory Body of BMS that will formulate policy and develop curricula with the recognition of international universities and professional bodies.

Speaking at the recent appointment Mr. Wijewardena said that, 'Sri Lanka's state owned higher educational institutions have been performing a remarkable job by producing the knowledge workers needed by the country to take it into the future.

Yet, there still remains a place for institutions like BMS to provide students with specialised knowledge like modern Banking and Finance, ICT and Management.

Our aim is to set up a campus based institution of repute in the region to attract more foreign students, on the one hand, and help Sri Lankan students to have access to international qualification which will meet the growing need for professionals in this field'.

Mr. Wijewardena has obtained a First class Honours Degree in Public Administration and a Postgraduate Diploma in Applied Statistics from the University of Sri Jayewardenepura and an MSc in Economics from the University York, UK.

He has also completed Ph.D coursework in economics at the Simon Fraser University, BC, Canada. He is an Honorary Fellow of the Institute of Bankers of Sri Lanka and an Honorary Diploma Holder Paris based ACI.