By Peter Corker

As concerned parents you are no doubt, discussing higher education options with your child at this important stage in his or her life. This is especially true for those considering higher education in the UK as the first deadline for university applications (other than medicine and veterinary courses) is almost upon us.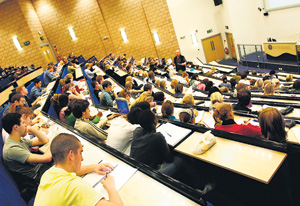 However, careful planning and early application are vitally important for all students wishing to undertake their higher studies overseas, wherever that may be.

Selecting an institution of appropriate standing and a course appropriate to career aspirations, in a destination where students feel secure and contented are key to ensuring success in higher education and fulfilment in their future career.

Early application is especially important as many of our students will, no doubt, wish to apply to top-ranked institutions to study highly competitive courses where the number of applicants greatly exceeds the number of places available.

But meeting the deadlines is purely organisational. A more important issue to be addressed is: 'How do you choose?' For all too many this question is answered by rushing to the league tables published by The Times, The Guardian and The Independent newspapers.

But simple solutions give simplistic answers. Different tables produce different results because they are based on different sets of criteria, which in themselves are often questionable.

How can you compare the student satisfaction at universities, for example, when some don't ask their students to complete the survey and others pay them to do so?

Good preparation will hopefully lead to students receiving offers that they are capable of achieving and successfully transferring to UK. If, however, you are looking for greater security - the guarantee of a place at a good UK university, for example, or the availability of advice from UK staff whose knowledge and understanding of the system results from a lifetime guiding students into UK universities, or even the safety net of a choice of courses that will guarantee you a place at a quality university even if your A Level results aren't as good as you hoped - there is an alternative way.

ANC Education in Colombo offers Foundation Year and first year Degree programmes that lead to guaranteed places at top universities such as Liverpool, Leeds, Manchester and Sheffield.

This could be the ideal second chance or a flying start to second year entry on a UK Degree in a huge range of Business or Engineering disciplines. Peter Corker has over 25 years experience in advising applicants to UK universities

For advice about studying in UK after your A Levels contact Sayuri on 0777 662255 or Kamanthi on 0777 730073.