Hundreds of DANKOTUWA "Purity" shape cups were used to create the latest TV advertisement of TWININGS of UK 'tea infusions'. The advertisement features Tom Parks, a talented artist who is well known for creating beautiful pictures out of everyday objects. In his latest creation featured on this ad, he uses hundreds of cups filled with tea infusions of different colours to create a landscape picture.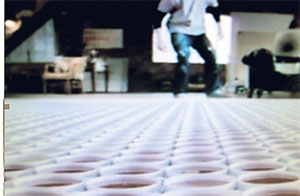 Picture shows -- rows and rows of cups being placed to create the design.
"Taking one by one the artist arranges the cups in rows, fills them with boiling water and then inserts a carefully chosen tea infusion to give the required colour for that pixel in the scene he creates. Over 800 cups were used to create this picture. This TV advertisement has been acknowledged as an exceptionally creative one," the Sri Lankan ceramic cutlery company said.
Twiningsd says they aim to "demonstrate an innovative artistic concept, to encourage consumers to explore the brand's established infusions offering." This "art of tea" advertisement will run for five weeks from the 4th of January 2010. The cups used for this unique advertisement were supplied by the DANKOTUWA Porcelain's UK agent, Fairmont and Main.
DANKOTUWA Porcelain said it was proud that its products were used for this unique advertisement.