A new entrant to the world of advertising, Ilango Ramanathan, Director at 24 Frames, is already making waves in the industry! He secured the Gold Award for Best Cinematography in the TV category at the recently concluded Reggie Candappa Creative Awards (December 11) for the popular 'Shoe Vender' produced for the 4As- a production that was both directed and cinematographed by him.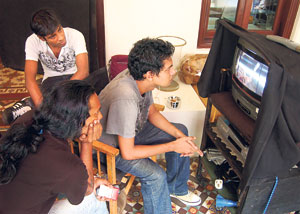 Ilango Ramanathan (close to TV) and his crew
He also won the Silver Award for Best Direction for the Clogard TV advert titled 'Spitting Man', which was a considerable achievement as a Gold Award was not identified in the category this year. Mr Ramanathan walked away with the Award for Best Direction while Mobitel Smart- Juggler commercial- yet another direction of his won the Silver Award for Cinematography with three more of his directions listed as nominations for Best Direction and Best Cinematography for year 2009. With all those metals claimed within the first year in the industry, Mr Ramanathan could well be the next big thing in the industry! Excerpts of an interview with him:
Q: What has been your journey thus far?
A: I was born in Sri Lanka and later moved to India where I did all my schooling and higher studies. Strangely enough, I majored in Electronics and Communication at NIT- India and even worked at a Software Company in Bangalore. Adding to my unusual mix of career interests, I even got my Pilot's licence here in Sri Lanka. However, from the time I could remember, I've always been fascinated by the film industry which I ultimately pursued as my long term career.
I got a President's Scholarship to study Filmmaking at the Rockport College in Maine, USA, for two years where I received the Professional Certificate in Cinematography and an Associate Arts Degree.
I didn't study directing though, because I wanted to fully understand the various dimensions of the subject and learn everything I could about film making.
Learning Cinematography helped me better understand the nitty gritties of film making, like the exact function and purpose of each lens, etc. The technical knowledge I acquired through cinematography helps me a lot in direction.
Q: What were you involved in initially when you returned to Sri Lanka after your graduation?
A: I had the opportunity to represent Sri Lanka at AFA -2006 (Korea), Pusan Film Festival in 2006, as well as the Berlinale Talent Campus in 2007. On my return, I worked as a Visiting Lecturer in Film making at the University of Kelaniya. Thereafter, I freelanced as a Camera Assistant to renowned local cinematographers Channa Deshapriya and Palitha Perera.
At the beginning of this year, I joined 24 Frames as a commercial director, had a couple of breakthroughs with a number reputed agencies who were impressed by my portfolio and here I am!
Q: What is it about filmmaking that appeals to you so much?
A: Film-making is not like your everyday profession; it's ever evolving and is always challenging. Even when it comes to commercials, each commercial is different from the other, so work never gets monotonous or boring. This also keeps you fresh and creative- constantly thinking out of the box. That's what makes filmmaking so interesting.
Q: What's the thought and action process when a script is initially handed over to you?
A: Firstly, I believe that advertisers, clients and directors shouldn't follow the norm of underestimating the comprehension levels of the consumer.
This is a common pitfall amidst the advertising community. When I first glance through a script, I try and take in all the minute details e.g. what's important to the client, how the commercial can cater to the interests of both the client and consumer, what could be added on to the production as opposed to producing a blueprint of the script line to line, etc.
Thereafter, I try and figure out how best I can implement and convey the contents of the brief/script, in a way to maximize the impact on the consumers.
I usually use some techniques and lens options that are rarely used here, which is why I've been told that there's something different about the way my commercials "look."
Appearance wise alone, they tend to stand out, because I take a lot of trouble to think my commercial through, because every second counts when it comes to a commercial.
Every second of it should make sense, create the right mood and help enhance the image of the product/service being advertised. So, it's quite a process but, the conceptualizing is the best part of my job!
Q: Have you got any plans in the pipe-line?
A: I have completed a script for a Feature Film, the subject of which is quite close to my heart. However, it's only the first draft still, so I have to keep working on it, broaden it out and get it on track soon!