A family run restaurant in Malaysia gained international fame and recognition after it won a long and drawn out 8-year court battle in 2009 over a trademark infringement case brought on by global giant McDonald's.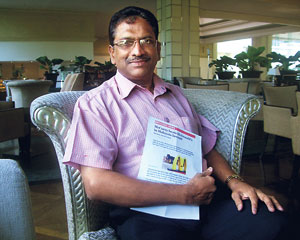 A.M.S.P. Suppiah in Colombo
McCurry (Malaysian Chicken Curry) restaurant in Kuala Lumpur, owned and run by A.M.S.P. Suppiah, serves fusion South Asian and Malaysian food with their specialties being the famous peppery chicken curry, fish head curry and murtabak (a parota with egg and onion filling).
Sri Lankans may soon be able to savour these delights as Mr. Suppiah was in Colombo this week, looking for investors to set up a McCurry restaurant here. In an exclusive interview with the Business Times, Mr. Suppiah said Sri Lanka not only has the best spices in the world but is now opening up to the world in terms of seeking new investments. He said he is also looking to expand in Malaysia through strategic partnerships and into India as well. After the trademark case propelled McCurry restaurant which opened in 1999 into the spotlight, Mr. Suppiah said there have been inquiries from Sweden, Nigeria and Ecuador about opening up restaurants although his current focus is on Asia.
McDonalds brought its trademark infringement case against the restaurant over its use of the prefix 'Mc' in McCurry in 2001. In September 2006, McCurry lost the case in Malaysia's high court and was asked to change its name. Mr. Suppiah appealed the decision and won the appeal in 2009. McDonalds subsequently made an appeal to Malaysia's Federal Court which threw out the application on the grounds that the case had no merit. Although touted as a David versus Goliath battle, Mr. Suppiah said he does not see it that way. "I have great respect for McDonalds," he said. "It is one of the greatest business success stories in the world but we were fighting on our own principles."
"McCurry opened up with a bang in 1999 because it was the first Indian fast food restaurant in Malaysia," Mr. Suppiah explained. "The name McCurry came about because our logo is a smiling chicken with two thumbs up.
McDonalds claimed we were infringing on their trademark by using the 'Mc' but McCurry is an existing Scottish name." In fact, one of the most well-known McCurry's is the American photojournalist Steve McCurry whose picture 'Afghan Girl' on the cover of a 1985 issue of National Geographic magazine was named as one of the most recognized photographs in the history of the magazine. Mr. McCurry has himself visited the McCurry restaurant in the business district of Kuala Lumpur.
Mr. Suppiah said that in law, the name McCurry cannot be split and must be looked at in totality. "We won the case because McCurry is completely different from McDonalds. The food served is completely different from the McDonalds menu. The type of customers we cater to is also different and the McCurry logo on the sign board distinguishes it as Malaysian chicken curry." He described his restaurant as simple and brightly lit with great food.
"Our colours are red and white, red for chili and white for cleanliness." Mr. Suppiah added that the litigation was costly but that he was confident of a decision in McCurry's favor because of several precedent cases as well. Mr. Suppiah is of South Indian origin but whose family has been in Malaysia for over 100 years. For more information on McCurry, visit www.mccurryrecipe.com.