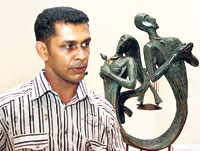 Manoranjana at the opening of his exhibition
'I, You, and We', Manoranjana Herath's latest exhibition sees the sculptor questioning himself and the experiences he has faced which he portrays through his work. "I sought forms and shapes to these human feelings that we all experience like love, happiness, sorrow, hope, anger, pain and patience," he says.
Love and human relationships continue to fascinate him and find expression in 2D or 3D forms, some more easily recognizable than others. Apsaras, he explains, those celestial maidens depicted in the Sigiriya frescoes have taken new forms in his contemporary interpretation.
These 21st century Apsaras have mobile phones in their hands. He calls them Colombo apsaras, not necessarily because they live in Colombo but because Colombo symbolises modern Lanka.
Then again the concept of expressing love through SMS, is hard to comprehend for this sculptor. "To a generation who infiltrated love into letters, words, and lines of a letter written on a piece of paper, there is difficulty understanding this," he confesses, adding that the 'SMS lover' has inspired his recent work.
Manoranjana Herath is recognized as one of the most exciting talents in contemporary Lankan sculpture, his work being featured in numerous exhibitions and shows both in Sri Lanka and India.
Holding a Masters in Fine Arts from the University of Delhi, he now lectures at the University of Visual and Performing Arts in Colombo and at the Colombo Academy of Arts.
His current exhibition which opened on October 20 will go on until November 1 at the Barefoot Gallery. - Pix by J. Weerasekera