The recently published monograph on the architect Anjalendran by David Robson and Waruna Gomis is indeed a timely production. As the author points out, it is a "recipe book" of affordable architecture, and should inspire those involved in the rebuilding and regeneration of our nation.
For someone who once playfully wrote in a mock marriage advertisement for him that he was an "architect specializing in nightclub lighting, Cleopatra toilets and cathedral ceilings" (a comment made by his aunt referring to underplayed lighting, toilets with alcoves for shower and bathtub and sloped gabled ceilings), he has indeed shown us how to achieve much that is applicable to many of our lives with very modest means.
Here is an architecture made by a Sri Lankan for Sri Lanka, which is within the economic capability of many of its citizens. Architectural ideas that are robust and simple, yet full of beauty and grace that could become a contemporary vernacular of our time. His work on the estate workers' residences at Mount Cinnamon and the SOS villages are by far the most consistent affordable and beautiful architecture one can see in contemporary Sri Lanka.
The book records what amounts to a lifetime of work, but done well before a lifetime is up and Anjalendran will, I am sure, continue "using the simplest materials to create magic" well into the future and long may that be. The book records in full measure the enthusiasm and infectious energy that Anjalendran has the ability to impart to anyone who has crossed his path. I, for one, have had the privilege of having him as my first "guru" in architecture before being introduced to whom we would jokingly refer to as "God" himself, with Anjalendran as high priest! Anjalendran's relationship with and his single-minded championing of Geoffrey Bawa and the values he stood for without becoming a clone of the great man are well explained in this book.
Anjalendran's introduction to Geoffrey Bawa in 1988 when I was working with him, led to my own association with Bawa from 1991. The book reveals that although Bawa and Anjalendran come from very different backgrounds and certainly different generations, they had the same spirit of enquiry that made them kindred spirits and "as his career progressed he would take his master to see each of his completed buildings, and in spite of their differences of approach, Bawa invariably nodded his approval".
Anjalendran has, of course, been a big influence in my life as he continues to be, 20 years after I first met him to introduce me as "my student".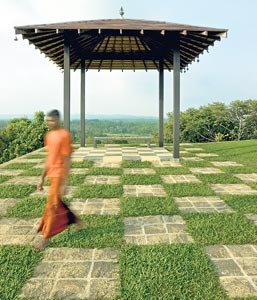 Pavilion at Mt. Cinnamon
Long may I learn from him! When I walked into a class on appreciating architecture at the University of Moratuwa in my first year having failed to do my homework and tried to bluff my way through a discussion, the rather fierce-looking Anjalendran wrote me off as "someone who could talk of a white wall for hours", but at the end of that class had offered me a job to work with him at the end of my third year. With that, I unwittingly walked into "Anjalendran's world' more fully described in the book.
To me this was a lifestyle that opened up many new avenues of thought and cultural experiences. The ragas by santoor maestro Shivkumar Sharma and recitals by M.S. Subhalakshmi, the celebrated Carnatic singer playing on his home stereo at work on his mother's verandah and watching the divine Malavika Sarukkai, the legendary bharatha natyam dancer, kindled an interest in classical Indian music and dance not to mention understanding the intricacies of making kondai malai and wedding cakes wrapped in Christmas bon-bons under the watchful guidance of his mother Lingawathie, when the architect had disappeared for his unpaid labour with Geoffrey Bawa, certainly enriched my own life. More than anything else, I learnt that this was not a nine to five job, but a continuing engagement with life to be lived to the fullest and learning at every turn.
Anjalendran's life was filled with one 'discovery' or another. Within months of my beginning work with him, Anjalendran decided that he needed to explore Kurunegala when he found out that my parents lived there. With my father's old jeep at our disposal, and armed with the register of ancient monuments and the relevant sheets of the one inch maps provided by our other travelling companion Athula Amarasekera, we scoured the district, in the true spirit of a pioneer explorer for what might be interesting places to see, in the process introducing me to my own background. In just four days we 'discovered' no less than 24 monuments.
Little gems of buildings we saw on that trip were drawn up in my first foray into perspective line drawings that for a moment even upset the doyen of this style of drawing Barbara Sansoni herself. They are reproduced in this book, whilst others we have never found again even on a subsequent return journey in 1992 with Michael Ondaatje.
This was but one of many such trips we made that year. The end of that year was celebrated with a journey where Anjalendran introduced my colleague at the time Anoma Peiris and her friends Sonali and Tania, and me to the richness of Southern India. We journeyed through Kerala, Karnataka, Goa and Tamil Nadu in all manner of transport including a bullock cart in Hampi carrying various acquisitions including two large icons of St Anthony and another Christian saint and two bronzes of Nataraj that went on to become a part of the architect's collection. To the constant refrain of "look, look, look" and "buy, buy, buy", we too added to our own burdens and carried on, looking at and often staying at the most exotic places – all these of course, including our purchases and return flights for a mere ten thousand Sri Lankan rupees.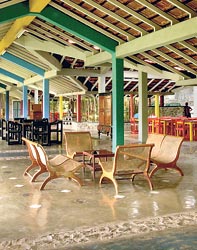 Lounge of SOS youth village in Piliyandala
Somewhere in between that year architecture happened too. As I left the following year for studies in London Anjalendran gave me a small bound copy of all the work I had done, which he felt, was worthwhile, inscribed with the following quote from Andre Gide, which summarized what I had learnt about him and possibly of life that year.
"You knew me well if you thought that, by its very excess, virtue would entice me; you knew that arduous and challenging paths lure me, that senseless pursuits appeal to me…. And that a little folly is necessary for the satisfaction of my pride." This is the milieu in which the work represented in this handsome volume has all taken place. Anjalendran's work is part of that full life, and the part that gives it discipline. This is seen in his buildings and it is a discipline that is rare amongst the current practice of architecture where fashion and magazine-inspiration accounts for a lot. As this book shows, his work has a consistency of visual and practical quality that is suited to the environment and economy of the place he is working in, which makes it timeless.
Every move and each space is thought out carefully and with an aesthetic intent. And like his planning of trips and his own life, nothing is left to chance. The precise drawings produced by the office and beautifully reproduced in the book are evidence of that thoroughness. It's a pity that the editor had to snip off some plans and elevations of some projects. Architectural books always benefit from having full sets of drawings particularly when they are as beautiful as these. Perhaps, it could have done with less repeat photos and more complete sets of drawings that allow people to explore the sequences of space that have been arranged by the architect and mentally wander through them.However, the photography by Varuna Gomis (with some by David Robson and others) looks at the work with sensitivity and not withstanding David Robson's eminent scholarship and engaging writing, makes this book a particularly special one.
The book is divided into five chapters, preceded by a preface and two essays that provide a background to the circumstances in which the work was done and a detailed biography of the architect. Chapter one discusses the town houses done by the architect, whilst the second chapter describes the suburban houses in the fast growing unplanned "slum" that Colombo's suburbs are becoming.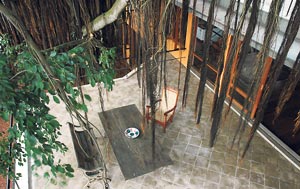 Terrace of the banyan tree house
The book shows how in spite of that, beautiful work can 'emerge from the mud and open as unsullied white flowers'. All his town houses, be they urban or suburban, engage with the idea of the courtyard or internal garden as a means of privacy and providing the respite required by the hectic nature and often ugliness of the outside world. This joins a long tradition and history of courtyard urban houses in the world. Inside these enclosed worlds, Anjalendan works his own magic with every move having an aesthetic intent as well as a practical one. In some like his house around the mango tree and the Banyan tree house, he engages with the least bit of nature that may be in the increasingly small plots to make the buildings unique to that context.
Chapter three discusses the country houses of which he has done a few. The charming estate house in Kurunegala brings in the courtyard idea into a country house where the house switches between expansive views to the outside from large verandahs with more intimate movement within the house and between spaces through the courtyard. The much grander Mount Cinnamon makes good use of the 360 degree view on the top of a hillock overlooking Weligama Bay. Like Bawa his mentor, Anjalendran too persuades and encourages his clients to patronize the arts and crafts. At Mount Cinnamon in particular, a like-minded client has enabled him to put together, between them, one of the most extensive collections of contemporary Sri Lankan art in the country today.
Chapter four discusses workplaces designed by the architect of which his work for a gem factory stands out. Now used as a garments factory, the building provides those small moments of joy that can only improve the working conditions of those that use it.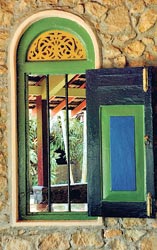 Recycled old window painted in a distinctly Anjalendran style
His special relationship with SOS children's villages of Sri Lanka, an Austrian-based charity for which he was architect in Sri Lanka for over 14 years has been distinguished with a separate fifth chapter. Here is described a long standing and dedicated relationship of mutual respect between client and architect which has produced some of the most consistent, enduring and beautiful work by a contemporary Sri Lankan architect. The SOS village in Galle particularly stands out here in its extremely good understanding of placing buildings in a given terrain perhaps imbibed through his constant engagement through 'exploration and discovery' of the Sri Lankan landscape. The SOS Youth Village with its kaleidoscopic colour structures is one of the most playful interiors Anjalendran has done, with some help from one of his muses, Barbara Sansoni.
He is always conscious of the environment and all the houses in the book show this concern through having buildings that did not ever need to be air-conditioned, in fact most cannot be. Many of the building materials are recycled old ones and done so, not just for style but also through a conscious effort to be less of a burden on the environment through consumption. This also, of course, brings in a layer of history and culture to all his buildings. All his structures are precisely designed and celebrated by the very striking use of colour again out of practical proposition that bright colours would give character to a building without having to decorate it and also perhaps will need less repainting! This has made his style stand out in a singular manner.
All the chapters are interspersed with double page spreads of Anjalendran's collections, tilted "Things", "Hindu gods", "Old masters", "Buddhas and bodhisattvas", "Young artists" and "Christian saints". These are joined by a section for his three muses, Barbara Sansoni, Ena de Silva and Laki Senanayake. A final section of Anjalendran's favourite places records some beautiful places and architecture of Sri Lanka both old and new, that is fast disappearing if not lost to us already. Here we have a collection of beautifully drawn-out measured and perspective drawings all perfected by his various innumerable assistants and students, including myself, through constant haranguing by Anjalendran in his search for perfection.
These two elements in the book make it special for they set out the architect in the full sense of his being and it is one of the few architectural monographs that truly gives a sense of who the architect is as a person.
Robson's writing style as always is engaging and informative on detail. So much so that there are moments when he seems to suddenly run out of that detail, more it seems out of the lack of space given him by the publisher than material. I am sure there is much more to be said about everything in the book and perhaps he would consider a more lengthy biography of the architect. All told though, the book is a well-researched document of a time and place in the history of contemporary Sri Lanka, and eminently readable.
In an interview, Anjalendran gave to the Sunday Observer to mark the opening of his youth village in Piliyandala for SOS in 1990 he said "…given a situation where there is strife in a country, where one can do little to contribute towards easing it, you get on with your work. Let's say trying to make the country worth defending, as you have given of yourself to it".
This was Anjalendran, the Sri Lankan, speaking out and the more of us think of this beautiful land of ours in that way, then long might it prosper. The work recorded in the book reaffirms that the defence has indeed been more than worthwhile.
Anjalendran – Architect of Sri Lanka, Tuttle Publishing (an imprint of Periplus) 2009. Price: Rs. 6,000