There are times when, listening to a piece of piano music, one wonders if, secretly, the virtuosity of the performance might be explained by the mysterious presence of a third hand. On Tuesday night, however, it was no secret: there were four hands – two belonging to Ramya De Livera Perera and two to her former pupil, Soundarie David Rodrigo.
The duettist (e)s maintained an unimpeachable balance throughout the evening, with never a hint of show-stealing or one-up-womanship (a point they quietly underlined by switching seats after the intermission). The natural intensity generated by this carefully tempered competition reached its peak in Mendelssohn's Allegro brillante – kinetic, feisty, and an object lesson in passing a melody seamlessly from one hand to the other (and to the other, and the other…). In their duelling, one piano did seem to bruise the other a little in the mid-bass range; but I concluded it was either more sternly strung or it was simply the one with its open lid aimed directly at me.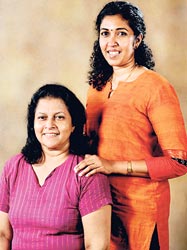 Ramya (L) and Soundarie
The pieces on offer were not quite so astutely selected or, in themselves, quite so good. Mozart's F-minor Fantasia was, well… Mozart (few things are more spell-binding than the outbursts of Mozart in a minor key). But if Brahms successfully worked Haydn's rather witless tune into a thing of majesty at times, others of the Variations were stamped with his penchant for 19th-century schmaltz. The performers rightly milked this for all it was worth – but some moments were a little too 'relaxed', even for Romantic piano.
The highlight of the first half was Lutoslawski's 1941 Variations on a That Theme by Paganini. An exhilarating alternative to the more famous Lloyd Webber version (the only piece of ALW's I'll confess to liking), from impish to violent to melancholy the arrangement was packed with all the fire and flavour of Lutoslawskis's more-famous Soviet bloc colleagues, and in every way honoured the compère's seemingly incautious promise of "virtuosity". (Who needs the Ballets Russes? I'd have torn up the Wendt's seating myself, if the chairs weren't all scaffolded together!)
The second half opened with Rachmaninov's arrangement of his own mighty Prelude in C # minor. Playing this giant-killer on two pianos makes perfect sense: halve the impossibility (aside from his musical genius, Rachmaninov had enormous hands) and, with two concert grands at your disposal, double the intensity. But the performers were hesitant; daunted, even. Restraint and Rachmaninov are unnatural bedfellows, and note for the first time I felt that the pianists were being too genteel.
The Prelude came unstuck, and tailed off in a manner which Rachmaninov could not have intended.
His infrequently-performed Valse, on the other hand – a gentle melody with touches of belle epoque pomp (in parody of J. Strauss?) – was deftly executed: in every sense a pleasing contrast with the tumultuous Prelude. The two songs by Gershwin I could have done without.
The cheeriness – not to say 'cheesiness' – was rather Hilton-on-a-Sunday and sat altogether too-comfortably with the Wendt's curious Kon-Tiki decoration: the potted palms gave the impression of two concert pianists playing right there on one's verandah (pace Flanders and/or Swann).
Paul Posnok's arrangements were neat enough (one sneakily introduced snatches of Rhapsody in Blue, which brought a couple of reproving chuckles from the audience), but seemed at times to cross the line between variation and needless re-arrangement of the existing notes.
The Paseo, a Latin-American slow dance by William Balcom, was similarly uninspired/uninspiring – a dampish squib with an unfittingly bombastic end – and it took the finale, Milhaud's Scaramouche suite, to bring the performance back to the boil.
Also Latino in spirit, the three movements were very clever in a French (i.e. annoyingly intellectual) way, but alternated between being blithely tuneful and forcedly modern, as though labouring under the belief that a spoonful of medicine might help the sugar go down.
Finishing with a tripartite piece was beginning to seem like a mistake when Perera and Rodrigo launched into the 'Brazileira', a flamboyant and punchy dance which won back the momentum and, ultimately, a well-deserved encore.