In a spacious airy building set in scenic surroundings at Gorakana, nine patients recovering from serious mental illness are being rehabilitated under watchful care. Lakeside Residencies, overlooking the Bolgoda lake, caters for patients who have undergone a course of treatment and counselling but need to be rehabilitated to go back to their families and the community.
Opened in May 2008, the Sahanaya Resource Centre and Lakeside Residencies functions as a halfway home, providing residential rehabilitation. But with only nine in residence, the facility which can accommodate 24 is currently under-utilised and could provide much needed services to the mentally ill who are on the road to recovery but still require care and attention.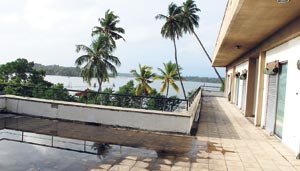 The picturesque view from the centre and (below) residents engrossed in their activities.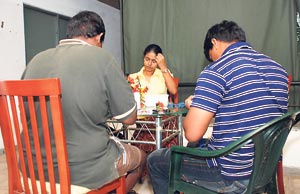 Those at the centre are under the care of a matron and five trained mental health workers, two of whom are always on duty. There is also an Administrative Officer, to oversee all arrangements. The clients' activities are supervised and medication is administered by the matron.
The centre caters especially for patients suffering from schizophrenia and depression, says Matron Shirani. They started with five or six clients. She says the average stay is from six months to one year, depending on the patients' condition and progress. "They are kept here until we know they can move with family and society," Shirani said. "Also some families have a problem in looking after them, so they prefer to keep them here longer."
With 12 comfortable bedrooms, they could easily take in 24. Earlier, they were full but some have gone home and others to work. There have been success stories. One client who came from Batticaloa was fit to go back home after three months, Shirani recalled. He apparently had a learning disability from childhood and got into depression in his early twenties. Now aged about 45 years, he is fully recovered and working. "When he first came, he wouldn't change his clothes or trim his beard. He kept his belongings in his pocket and would not let anyone touch them. His brothers were surprised at his recovery."
Another 35-year-old was under rehabilitation for seven months and did a computer programming course and a graphic design programme during this time. He is now working in a government school. Yet another, an undergrad who had dropped out of campus was with them for one year. While at the centre he worked at a hotel. It was a period of observation, with feedback from the workplace. After a year he went back home and is now working as a cashier in a tourist hotel.
The residents have a full day's programme with volunteers coming in for activities such as art therapy, music and drama, cookery and English. When the Sunday Times visited the place, a small group was making cloth flowers for an exhibition to be held to mark Mental Health Day on October 10. Their daily routine includes physical exercises, horticulture therapy, religious activities, reading, computer training, cleaning and sweeping, watching TV, and relaxing. They have a range of occupational therapy programmes such as gardening, making cement pots, compost making, pottery painting, dress making, flower making, and computer training.
The matron explained how a chart on their activities is marked daily and totalled at the end of the month to help monitor their progress. Administrative Officer, Jean Fernando oversees the maintenance, meals and other administrative details.
The management of this centre is soon to be taken over by the Richmond Fellowship Lanka, an internationally affiliated organization, which has much experience in running facilities like this. They already manage a residential home for the mentally ill in Bopitiya and Batticaloa, with treatment by the Government Hospital, as well as a centre in Hikkaduwa.
The construction of the Residencies and Resource Centre cost around Rs. 40 million, while the land was gifted by a generous benefactor. It was purpose built to house 24 residents with spacious dining and sitting areas and additional space including an auditorium for conducting seminars, lectures or workshops.
Before the residential programme was inaugurated in 2008, a training programme for Master Trainers was conducted in 2005. "After the tsunami, there were delegates from Israel who conducted a programme in batches for 235 participants, including doctors, nurses, teachers and social service staff," said Jean Fernando. "Sixty were selected after evaluation as Master Trainers, to go out to their own areas to train others."
Sahanaya, the National Council for Mental Health was started about 25 years ago by Dr. Nalaka Mendis with a group of concerned people to provide services to the mentally handicapped.