Design students now have the chance of following an undergraduate course at the Academy of Design which has linked up with the School of Design, Northumbria University, United Kingdom. The course was launched last Thursday.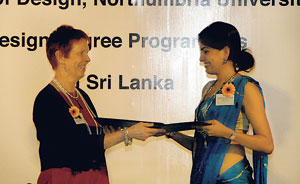 Prof. Jackie Guille, Associate Dean, Northumbria School of Design exchanges the MOU with Ms. Linda Speldewinde of the Academy of Design
In 2001, the Academy of Design opened its doors to students who wished to learn more about design to enable them to secure a local diploma in fashion design. Later on they introduced BTEC Higher National Diplomas in Fashion Design, Interior Design and Graphic Design, which are all internationally-recognized.
Along with Edexcel UK, it also launched the BTEC First Diplomas in Jewellery Design and Design Foundation. The School of Design at the Northumbria University has a history of over 100 years in design education in the United Kingdom and offers more than 15 post-graduate and undergraduate programmes.
The Academy of Design will be the first to offer an international BA (Hons) Degree in Fashion Design, Interior Design or Graphic Design in Sri Lanka, giving students a chance to pursue a post-graduate programme abroad later.
"There was a need as no other course is offered in Sri Lanka outside the state university system, which started one at the Moratuwa University in 2004," explained the Founder and Managing Director of the Academy of Deisgn, Linda Speldewinde.
The students of the academy can now complete their degree at the academy itself - a three-year BA, she said, adding that the degree will give them the opportunity to do their masters anywhere else. It will also give them a chance to be employed in this field.
"The Northumbria University is among the top 20 universities in the UK in design," Ms. Speldewinde says, explaining as to why they tied up with it. "Our main objective is to offer a full degree and that has been achieved. There is a future for all creative areas in Sri Lanka," she adds.