Sri Lankan artist Anoma Wijewardene was one of four leading artists from the South Asian region to take part in an exhibition held last month at The Noble Sage Art Gallery in North London. Entitled 'In the Fore', the exhibition showcased eight works from her new series on the theme of 'Power', alongside work by prominent artists from India and Pakistan. The exhibition was a personal success for Anoma, with five out of the eight paintings sold even before the Private View.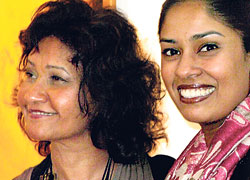 The artist with Kishani Jayasinghe
Among those attending the Private View on May 14 were several prominent Sri Lankans from the arts world, including pianist Druvi de Saram and his wife Sharmini, novelist Romesh Gunasekera and singer Kishani Jayasinghe. Also present were many of Anoma's friends from her years spent in London, including painter George Bevan, Prof. Clare Johnston, Professor of Textiles at the Royal College of Art, Patrick and Jane Gottelier, creators of the fashion label Artwork, British diplomat Alison Kemp and designers Amanda Knight and Foxy Darby.
He was very glad to see good Sri Lankan contemporary artists like Anoma being shown in London galleries alongside artists from other South Asian countries, commented Romesh.
This is the second time that Anoma has exhibited at The Noble Sage Gallery. Her previous show at the gallery, entitled 'Quest', was a multimedia installation, combining words, digital art and music. In the latest exhibition she returned to her trademark richly- textured mixed-media paintings.
Anoma has once again demonstrated her extraordinary talent for originality, while maintaining her distinctive style. Avoiding cliché and formula, she has evolved a wholly fresh artistic vocabulary for her new theme, 'Power'. The eight paintings in this exhibition dealt with the ways in which human beings experience and exercise power in different situations, ranging from the personal to the political. The term "power" is used by Anoma to cover a wide variety of meanings and contexts, from "the primal power of the universe" and "the power that comes from the energy of the earth", to "the power of truth - the ability of truth to appeal to our better selves" and "the balance of power between individuals in relationships".
Titles are, as usual, integral to understanding Anoma's work.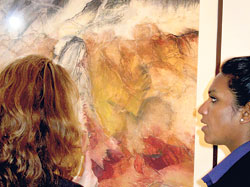 Another of Anoma's paintings
Each of her paintings may be seen as a complex physical embodiment of her thought processes, gradually built up as she explores psychological and philosophical issues which are of interest to her. The title provides a tool with which the viewer is able to interrogate the work and unwrap its many layers of allusive and symbolic meaning.
Some of the paintings are relevant in multiple contexts, others seem to have resonance mainly at a personal level. For example, 'All you create, all you destroy', could refer to divine power, to man's dependence on the natural environment or to the capacity of human beings to build relationships with one other. 'Deep within a quiet pool, the waiting truth' and 'Filled with silence, an absence of deception' are more introspective and reflect upon man's ability to break free of social and personal constraints in order to attain spiritual wholeness. We are reminded of the fragility of the human condition in 'Consent to the unutterable abundance, knowing that all is fleeting' and 'Desert storm, the imperious wind of destiny'. Yet, running through this magnificent and visually stunning series of paintings is an underlying thread of optimism, a hope especially for personal empowerment, most clearly indicated in 'Spinning memories, breaking free of the narrow self'.
Anoma's palette in the new exhibition is also different from that of previous works. Though there are hints of an earlier series, 'Transformation: Rites of Passage', shown at The Noble Sage in 2007, in occasional blazing orange-reds juxtaposed with misty grey-blues (as in 'Deep within a quiet pool…' or 'Desert storm…'), this time there is overall a more sombre tonality. Dominant hues are purply-reds and yellow ochre, enlivened, it is true, with shafts of cobalt or turquoise blue, but emerging most often from a background of black -- which is in keeping with the often cosmic relevance of Anoma's themes. Yet, as in much of her work, even the most subdued-looking of works is found, on closer inspection, to glow richly from within - in fact, "glowing richly from within" could be a metaphor for the whole of her oeuvre, replete as it is with sensuous delights and reflective truths.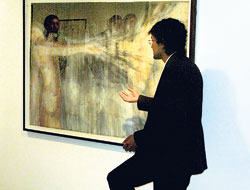 Gallery owner Jana Manuelpillai views one of Anoma's paintings.
Invitees to the Private View stayed a considerable while, engrossed in the paintings. Druvi and Sharmini are long-standing fans of Anoma's work. "I am always very impressed by Anoma's work," said Sharmini. "Her work is so rich; each time you look at one of her paintings, you discover something new. You also feel you are not standing apart from the painting but are somehow an integral part of it..."
Kishani Jayasinghe confided: "I love Anoma's work…her paintings have a very clear message and definitive imagery embedded within the confines of abstract artistic lines, which makes her paintings multi-faceted and intriguing. I am a big fan!"
One of those for whom this was a first exposure to Anoma's work was Dr. Sarojini Jayewickrema, academic and author. She found the paintings to represent "not just the visual world but also the subliminal -- a way of seeing which plumbs the unconscious… that subterranean level of meaning that the mind accesses though unaware of doing so".
Barrister Shiranikha Herbert was also seeing Anoma's paintings for the first time and commented on their "dreamlike quality… ethereal splashes of colour with silhouettes emerging out of shadows. They make one ponder and they could also be rather disturbing… We live in a world in turmoil and Anoma's paintings seem to reflect that".
A deeply thoughtful, sensitive and original artist, Anoma has explored many themes over the course of a career which has included over 40 exhibitions. Her work is of universal relevance, in that she explores the interface between man and society, between the personal and the collective, between interior and exterior worlds. Her beautiful and conceptually rich work is continually developing and evolving and in this latest series, she has reached yet another milestone in her personal and artistic journey.