It is June 18, 1993…a full house at the Elphinstone Theatre and backstage all the artistes getting ready for their performance. The play's director, theatre veteran Dayananda Gunawardena is also there, as he was known to watch his work from behind the curtains rather than seated with the audience.
As expected, the performance goes off well. After the curtain call, he asks his son Keerthi to take a photograph of the cast. Soon after the photo, Mr. Gunawardena collapses, remains in the ICU for a week and passes away on June 24, 1993.

Dayananda Gunawardena
That play was Mr. Gunawardena's final production and to commemorate his 16th death anniversary the drama troupe Nalu Keerthi Sabha will host some of his well-loved dramas this July at the Lionel Wendt.
Organised by Jude Srimal, the opening night on July 10, will feature the famous Nari Bena followed by Jasaya saha Lenchina. Madura Javanika will be on July 11 while Gajaman Puwatha will wrap up the festival on July 12.
Mr. Gunawardena is considered one of the fathers of modern Sinhala theatre along with Prof. Ediriweera Sarachchandra, Sugathapala de Silva and Henry Jayasena.
Theatre personality Jackson Anthony said that the gates opened in 1956 with Prof. Sarachchandra's Maname after which point Sinhala theatre came under the spotlight once again.
Mr. Anthony went on to explain that Maname was an operatic type of drama similar to that of Indian operatic style and it was Mr. Gunawardena who brought the stories from the village, folklore, to the proscenium. "Folklore was primitive and he made it to suit modern times," Mr. Anthony explained.
Nari Bena and Jasaya saha Lenchina were old folktales and what Mr. Gunawardena did was to introduce these stories and the songs, written by Lionel Algama, to contemporary society, Mr. Anthony says. Some of the memorable songs from these plays include Ahala malin gas pirila balanna hari lassanai and Kumatada sohoure kandulu salanne.
Mr. Gunawardena introduced the concept of 'docu-drama' to Sinhala theatre – the concept of incidents made into a drama and Madura Javanika is one such drama.
Mr. Anthony says that although our history is documented in the Mahavamsa, our cultural history has not been documented. "What is symbolic of our cultural history is how we have moved from living in a big kingdom to having to go to another country," he says, adding that the plot follows our cultural history from the Ravana period to the Dubai period.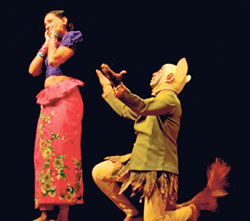 A scene from Nari Bena and below Gajaman Puwatha. Pix courtesy picasa web.google.com / wasanthaya
The story of Madura Javanika unfolds through conversations among security guard Lanka Arakshaka and Ravana, Sindbad the Sailor, Kuveni, Elara, Bharanaganithaya, Parangiya, Father Gonzales, Jandisingho and Rosa Nona and Vansavathi, to name a few. "You can see how colourful and musical our cultural history is," he says. Rohana Baddage, Bandula Wijeweera and Edward Jayakody are the music directors for this production.
"Gajaman Nona was not entirely respected as a poet until Dayananda Gunawardena brought out her true story, showing us how the poetry she wrote was philosophical," Mr. Anthony explains.
Through a collection of letters that Gajaman Nona and her lover Alapatha Mudalali wrote to each other, as well as letters written by John D'Oyley, a true picture of Gajaman Nona was created. So on the last day of this theatre festival Gajaman Puwatha will be staged, highlighting the life of this famous Sri Lankan poet. Once again the music director is Rohana Baddage.
The cast includes Jackson Anthony, Anula Bulathsinghala, Bandula Wijeweera, Rodney Warnakula, Vasantha Gunawardena, Rathnaseela Fernando, Wijeya Nandasiri, Rathmali Gunasekara, Nissanaka Diddeniya and Jayalath Manoratne.
"Dayananda Gunawardena respected people and he was a lovely person," Mr. Anthony said, adding, "He was a pillar of strength to us and we need to take his plays forward."
When Mr. Anthony studied Sinhala literature at university, Mr. Gunawardena's work had been part of the text, so he became a hero to him. "I learnt a lot from him especially since I lived in Ragama while he lived in Gampaha. We would take the same train home and have long discussions along the way. Since I knew the person he was, I felt a great loss when he died."
Some of the cast members have been around since the 60's while others have joined recently. But they all pay their respects to Dayananda Gunawardena before acting in his plays because he has influenced their lives.