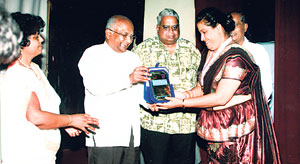 Managing Directress, Mrs. K.D. Vijitha Senanayake at Institute of Vocational Studies (Pvt) Ltd., has been conferred with the award "Diriya Kaantha Prasadini" in recognition of her valuable service rendered for the last 16 years for the welfare of the children of our country by "Saviya" Development Foundation (SDF) in collaboration with 'Saviya' Women's Organization (SWO) and World University Service, Canada (W.U.S. - C.).
Mrs. Senanayake received this award from Minister of Cultural Affairs & National Heritage, Mr. Mahinda Yapa Abewardena for the International Women's Day. Mrs. K.D.V.M. Senanayake is a Graduate (MSc) in Economics in Lumumba University, Russia. She is a product of 'Gothami' Girls' School, Colombo.
Mrs. Senanayake is the daughter of late Mr. K.D. Chandradasa and Dinawara Kalyani Jayawardena of Kadawatha. She is the wife of Dr. Ravindra Senanayake Mudalige. Mother of Damith Nuwan (Royal College, Colombo, Year 12 - Engineering) and Aruni Erandathi (Musaeus College, Colombo - Year 9).
Currently, the interest shown by students who pursue to study in foreign educational institutions has gone up. Due to this trend more and more consultant services emerge. But the question is whether those institutes guide the masses correctly.
'Institute of Vocational Studies (Pvt) Ltd', is an institution that caters to your needs of yours properly.
These are the foreign Universities in which you can study. Bangalore University, Rajiv Gandhi University, Rank No. I PESIT Institute in Karnataka State, India, affiliated to N.T.R. Universities (Post Graduate), Indiana University of Pennsylivania (U.S.A.), Claremont University, N.R.I. College and Sambram Institute of Technology, Science & Technology University in Chithegong, Bangladesh, F.T.M.S. Global (Affiliated with University of East London - U.K.) ERC Institute.
All Inquiries:
Institute of Vocational Studies (Pvt) Ltd., 476, Kandy Rd., Dalugama, Kelaniya.
Tele: 0777444500.