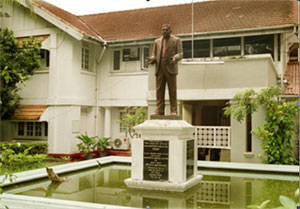 D.S. Senanayake College one of the premiere educational institutes in Sri Lanka with a short span of history of 42 years was established on the 10th of February 1967 under the stewardship of Mr. R.I.T. Alles.
The school gained many achievements of excellence both in the academic and non academic fields, locally and internationally. It is proud as a truly multi ethnic, multi religious college which has proudly created unblemished and prestigious record of excellence in academic, sport and community leadership of highly innovative and patriotic individuals to the motherland.
Pioneers behind these achievements are the founder principal Mr. R.I.T. Alles and his successors. The present principal Dr. Asoka Senani Hewage is the great pillar to the current re awakening of the school.
Under the leadership of the present principal Dr. A.S. Hewage the school has benefited immensely. He was instrumental in carrying out many development projects of the school, the swimming pool, the gymnasium, the state of art computer room and many new buildings are just a few to mention. The pioneer and the great pillar behind the current re awakening of D.S. Senanayake college is Dr. Asoka Senanai Hewage.
The principal has been conferred with the president of the interschool squash association. This latest appointment adds more laurels to his office as the president of the educational administrative service association, president of the school cricket Association, vice president of the school football Association and vice president of the old boys Association of Dharmaraja College - Colombo Branch.
The school also carried out social responsibility projects such as laying foundation for the construction of a two stored building for the Kuda Gampaha primary school in Hambantota. The great success of D.S. Senanayake College is the rapid growth of the school in such a short period of 42 years. It is the sole commitment of the Administration of the school, teachers, parents, students and old boys working together to achieve a common goal.
The school which has a student population of over 6000 and an Administrative staff of over 200 has become one of the most prestigious and sought after school in the country. The school believes in creating well rounded individuals with a unique culture of brotherhood that last all their life says the principal.