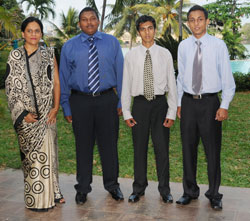 (L-R) Priyanthi with Lasan Kumarathilaka (Wycherley International), Wasana Jayawardana (Pinnawela Central) and Pushpika Siriwardene (Prince of Wales). All three have been accepted to NDSU in Fargo ND with 50% tuition waivers & maximum part-time and summer internship possibilities.
Since placing her first batch in 2005 (when Lankans had hardly heard of North Dakota) when the Lankans were at the bottom of international community at NDSU (40th position) Priyanthi (www.scholarshipsforusa.com) has single handedly increased the numbers to over 55 within just two & half years bringing the Lankans to third position only behind Chinese & Indians which is considered the largest increase (of international students from a particular country) in NDSU's history.
Priyanthi further boosted NDSU's standing in SL by joining them with Post Graduate institute of Management, University of Peradeniya, University of Moratuwa & American College of Higher Education.