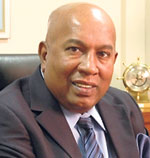 Mohan Pandithage
Hayleys Chairman N.G. (Tanky) Wickramaratne will be retiring from the company on June 30 and will be replaced as chairman by Mohan Pandithage, the Group's Deputy Chairman, the company announced on Thursday.
The decision was taken at a board meeting of the Group on Wednesday evening. Mr. Wickramaratne was appointed chairman on January 10, 2007, taking over from Rajan Yatawara who retired. Mr. Wickremeratne will on June 30 end a 38 year-old association with the group he joined in 1971. Mr. Pandithage joined Hayleys in 1969.
The other directors are Richard Ebell, L.K.B. Godamunne (non-executive), P.S.P.S. Perera, J.D. Bandaranayake (non-executive), A. Hettiarachchy, M.R. Zaheed, A.M. Senaratne (non executive), J.A.G. Anandarajah, T.L.F. Jayasekera, and Dhammika Perera (non executive). Mr. Dhammika Perera owns 23% of Hayleys. Company sources said that he is expecting another seat and that his investment advisor, Nimal Perera will step into the vacant director position expected in July.