Following the successful screening of internationally box office hit "Madagaskar 2- Escape to Africa", a number of top notch Hollywood movies are to be screened at the Majestic cinema, Colombo.
Anjelina Jolie's latest movie "Changeling" directed by Clint Eastwood is slated to be screened at the end of January, 2009.
Inspired by actual events that occurred in the 1920s-era Los Angeles, "Changeling" tells the story of a woman driven to confront a corrupted LAPD after her abducted son is retrieved and she begins to suspect that the boy returned to her is not the same boy she gave birth to.
The year was 1928, and the setting a working-class suburb of Los Angeles. As Christine (Angelina Jolie) said goodbye to her son, Walter, and departed for work, she never anticipated that this was the day her life would be forever changed. Upon returning home, Christine was distressed to discover that Walter was nowhere to be found. Over the course of the following months, the desperate mother would launch a search that would ultimately prove fruitless.
Yet just when it seemed that all hope was lost, a nine-year-old boy claiming to be Christine's son seemed to appear out of thin air. Overcome with emotion and uncertain how to face the authorities or the press, Christine invites the child to stay in her home despite knowing without a doubt that he is not her son. As much as Christine would like to accept the fact that her son has been returned to her, she cannot accept the injustice being foisted upon her and continues to challenge the Prohibition-era Los Angeles police force at every turn. As a result, Christine is slandered by the powers that be, and painted as an unfit mother. In this town, a woman who challenges the system is putting her life on the line, and as the situation grows desperate, the only person willing to aid her in her search is the benevolent local activist Reverend Briegleb (John Malkovich)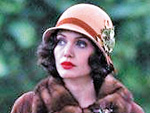 Return of Academy awarded couple Leonardo de Caprio and Kate Winslot, Golden Globe nominated 'Revolutionary Road' will be followed by 'Changeling'.
Directed by Sam Mendes, the American/ British film is based on the 1961 novel of the same name by Richard Yates.
Set in 1955, the plot focuses on the hopes and aspirations of self-assured Frank and April Wheeler, who forsake life in the city in order to raise their children in the Connecticut suburbs, where they see themselves as very different from their neighbours in the Revolutionary Hill Estates.
Shot on location in Beacon Falls, Bethel, Darien, Fairfield, Greenwich, New Canaan, Norwalk, Redding, Shelton, Southport, Stamford, Thomaston and Trumbull, the film marks the first time DiCaprio, Winslet, and Bates who have worked together since the 1997 blockbuster Titanic.
A latest released family film, "Hotel for Dogs" is another movie that is scheduled to be released during the 2009 list. "Hotel for Dogs" is the film adaptation of the Lois Duncan novel of the same name about two orphans who take in stray dogs at an empty house.
Nancy Drews and Emma Roberts lead a star-filled cast that includes Kyla Pratt, Lisa Kudrow, Kevin Dillon, and Don Cheadle. A pair of orphaned siblings (Roberts and Jake T. Austin) are forced to give up their beloved dog when they move into a foster home. But since they can't stand to live without him, they turn a closed hotel into a home for their dog--and any other strays they can find.