Has your computer ever gotten stuck on boot up? Or seen a blue screen instead of the Windows logo? This is a typical instance of a computer virus attack. Even with no knowledge of how a virus functions, the word strikes fear into the heart of computer owners.
The first question that most of us would ask is, who creates them? For every virus there is an author with different motives. For some, creating the ultimate virus is achieving the ultimate technical challenge. For others, it is a form of self-expression. Some disgruntled employees, consumers or citizens turn to virus building as revenge for perceived injustices. There are also instances when legitimate businesses build viruses to weaken competitors. For a hacker the ultimate glory is the extent of the damage they cause and the kind of publicity the virus would generate.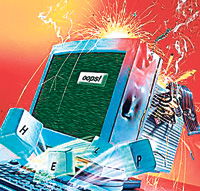 The potential damage of a virus can range from a delay of computer functions to complete failure of a computer. Viruses commonly attack the boot sector which is the section of the hard disk that is read when starting the machine. Such attacks would lead to the computer getting stuck at the beginning or getting a blue screen. Some viruses infect executable program files which activates when the program is started. It will travel into the memory and make copies of itself resulting in a memory overload. There are tons more which range from viruses attacking data files which contains macros to combinations of different kinds of viruses, example boot sector and file viruses.
How to stay safe? It's virtually impossible to not get affected by a virus. The best approach is to have an anti-virus program running which is regularly updated and running scheduled scans. The Internet has opened up a new plateau for viruses to spread and all who are connected to it, are in potential danger. Another good practice we can follow is to make sure the portable disks we use such as thumb drives and portal hard disks are always scanned prior to making any data transfers.
Some of the well known computer viruses
Jerusalem
One of the earliest and most successful viruses which was first detected in Jerusalem. It activates each Friday the 13th of every year and deletes every program file that was loaded into memory.
Stoned
Became one of the most popular viruses back in 1987. When activated it displayed a message that reads "Your PC is now stoned. Legalise marijuana." Different variants of this virus came out since then, some say close to 90 variants.
Monopoly
A worm virus which was sent via email saying that there is proof that Bill Gates is guilty of abusing his monopoly position at Microsoft. When opened, an image of Gates on a Monopoly game board was displayed. The worm then attempted to mass-mail itself to all of the user's contacts.
I Love You
I remember getting this virus back in 2000. Known as the most destructive worm of all time, ILOVEYOU disguised itself as a romantic message to the recipient that, if opened, would send itself to everyone in the user's address book. The virus reached up to over 45 million people in one day, clogging email systems all over the world.
AnnaKournikova
A virus that came out when the real Anna Kournikova made headlines in the sporting world with her tennis back in 2001. A worm virus that used an email message when opened it would copy itself into the Windows directory and sent the file to all contacts in the user address book.