Once famed as '5th circuit', well known for screening Sri Lankan arty movies, CEL circuit has a line-up of local cinematic experiences, some of which have already won international recognition.
Eagerly awaited by the film lovers, some of them are sure to be box office hits with their artistic presentation, star-studded cast and versatile directions.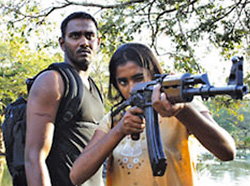 'Alimankada Sita'
The New Year line-up will start with 'Dancing Star', which would be followed by Dayaratne Ratagedara's 'Nil Diya Yahana'. A film by Siras's Susara Dhinal, is slated to be screened from the beginning of February.
'Dancing Star' would be followed by veteran actor Sanath Gunatillake's 'Ekamath Eka Rataka' (Once Upon a Time'), a story based on a book. Nirosha Perera, Sanath Gunathilaka, Roshan Ravindra, Chandani Seneviratne, Damitha Abeyratne, Himali Sayurangi, Duminda Weerawardana and others play the key roles in the film.
Another much awaited film lined up in the CEA circuit is Chandran Ratnum's "The Road from Elephant Pass" (Alimankada Sita) , a film based on Nihal de Silva's award winning novel under the same title. In this film Suranga Ranawaka will make her entry to cinema opposite Saumya Liyanage.
The film revolves around an army officer's routine assignment to pick up a woman informant near Jaffna which turns into a nightmare when the Tigers launch a massive attack in the peninsula targeting the camp at Elephant Pass. The two adversaries are forced to escape together through the rebel-held Wanni and later cross the abandoned Wilpattu National Park on foot.
Awarded at International Film Festival of India (IFFI), Prasana Vithanage's 'Akasa Kususm' will be another film scheduled to be screened on the CEL circuit cinemas around the country.
Competing at the Dilhi International fiml festival, veteran actress Malani Fonseka was awarded the prestigious Silver Peacock for her performance as a vintage film star and the film is also to be screened at several other international film festivals before its screening here.
'Akasa Kusum had its world premiere at the 13th Pusan International Film Festival (PIFF) in Pusan, South Korea last October. In the film is slated for international screenings at festivals in Palm Springs and Tiburon in the United States, Granada in Spain and the Brisbane International Film Festival in Australia.
"Akasa Kusurn" tells the story of faded actress Sandhya Rani (played by Malini Fonseka), who is suddenly thrust into the media spotlight when she is embroiled in a minor scandal.
Filmmaker M. Safras' 'Sudu Hansi' starring Arjun Kamalnath, Ameesha Kavindi and Mutu Tharanga and Ananda Wickremasinghe's 'Hadawatha Mal Yayak' are two other films scheduled to be screened within 2009.