Sanjeewa Kumara has painted 22 pictures in the past six months, working on several pictures at the same time. The paintings will be on display at his second exhibition this year at the Paradise Road Galleries.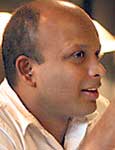 Sanjeewa Kumara
This is an artist who talks to his paintings. It's not easy to finish a good painting without a dialogue, he says. Paintings speak to the mind and pictures speak to the eyes. "I try to make a picture," Sanjeewa says, adding that he tries to bring out an element of surprise in each one.
His paintings are distinctive in their bright colours, historic characters and attention to detail. In his first solo exhibition in 1999, he sold every painting that he exhibited.
Chairman of Paradise Road Galleries, Shanth Fernando speaking at a news conference to announce the exhibition, said it was rarely that every painting gets sold. Mr. Fernando says he admires Sanjeewa's work because the style is unique and difficult to duplicate. This time around, the paintings depict a circus, Mr. Fernando says.
Sanjeewa calls his art 'non-western, western art' and says his pictures depict the uncanny, the fantastic, the supernatural, hesitation, and uncertainty.'
The exhibition is now on display at the Paradise Road Galleries and will continue until January 14.