They too once had a roof over their heads. But the tsunami snatched away those happy homes, all their hard-earned belongings and even those near and dear to them. They were forced to take refuge in temples and churches… and later moved to temporary campsites 'soon to be relocated'.
It's been four years. While some of the tsunami campsites have been cleared and those affected provided with houses, there still remains a group for whom help and hope seem far away. Tagged as 'sub-families' these victims are now languishing in temporary shelters, especially in the Moratuwa and Ratmalana areas with no option but to stay on in those camps. The reason? They have been told that those who did not have ownership of the land their houses were built on as well as those who were living on rented houses at the time of tsunami are not eligible for housing.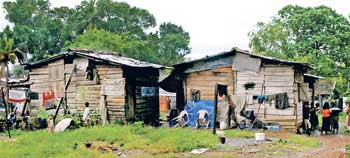 Salusala Watte tsunami camp in Ratmalana.
Statistics compiled by the People's Planning Commission (PPC), an independent body that provides assistance to the tsunami affected, indicate that people falling under these two categories are living in several campsites in Colombo mainly in the areas of Moratuwa and Ramalana namely Salusala Watte, Borupana Ratmalana, Warimarga (Irrigation) tsunami camp, Ratmalana, Sunanda Opananda Moratuwa, Thalarukkarama tsunami camp Moratuwa, Kreedangana Mawatha tsunami camp Koralawella Moratuwa, Roman Catholic School lane- Koralawella Moratuwa, Podu Jaya Vidyalaya camp- Angulana Moratuwa, Lunawa Thanayama Camp and Molpe Sobitha camp Moratuwa are faced with this problem.
The speculation is that they will only be paid Rs. 25,000 and be evicted from these temporary shelters.
When The Sunday Times visited Salusala Watte tsunami camp in Ratmalana which is home to 15 sub-families, the residents were quick to narrate their stories of woe.
The uncertainty about their future weighs heavily on them. They are disappointed as they are marginalized and discriminated against simply on the grounds that they belong to the so- called 'sub families' category.
Lalith Deepakusum, a father of two school-going children said he was living in a small plot of land in Koralawella with his family in a house built on the land where his mother's house was also situated, prior to the tsunami. "Since my house was built on land belonging to my mother only she can claim compensation and not me as I do not have any ownership to the land," he laments.
A young mother Shanika Erandi carrying her infant, said she too is a victim of a similar situation.
"We were living in a small wooden house built on four perches of land, but a few months before the tsunami we shifted to our mother- in – law's house on the same land as we wanted to renovate our house and to put up a brick house. However, before we could complete the work, the tsunami hit us and everything was destroyed. That is why we are considered a sub- family now," she said, in tears holding her little one close.
| | |
| --- | --- |
| | |
| Tilaka | Niranji |
One by one people walk out from their temporary shelters to give their stories in great agitation, some pleading for help to get them a permanent shelter. They are willing to go anywhere, they say, pleading with the government to give them an assurance that they will not be left out.
Niranji Pumika who was living in a rented house at the time of the tsunami, alleges that the owner of the house who was nowhere near when the tsunami occurred was duly compensated for the loss of his house.
This is highly unjust as it was they who faced much of the calamity. "When the tsunami came it hit everyone regardless of whether we were living on rent or sub-families. Even when foreign countries gave aid, they didn't discriminate. But when we are to receive our compensation only, this discrimination starts," says Niranji's husband who she says is suffering from a cancer.
At the Gangaramaya tsunami camp in Moratuwa which houses 12 families among whom there are six sub-families, the camp dwellers expressed similar sentiments. Tilaka Kusumawathie said her house was on her sister's land with both houses built side by side. "My sister got compensated and shifted to Morontuduwa, but I am without any assistance to put up a house again as I am considered a sub-family," she laments.
Four years after the tsunami, it is a searing indictment on Sri Lankan society that these people, who suffered the brunt of the disaster, are still unable to move on.
Remember Asitha?
It is a busy morning, with all the routine work, for this tiny household in Katukurunda, Moratuwa. Husband Tharanga is about to set off to his workplace, where with a partner he has got into the lee (timber) business. Wife Ashani is vigorously sweeping the tiny frontyard with an ekel broom while urging younger sister, Ruwangika, younger brother, Asitha, and also her own little one to wash, brush their teeth and have their breakfast.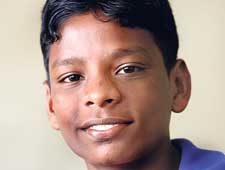 Four years on, life goes on for Asitha.
For this family, it is not only Christmas week but also the week of the terrible tsunami. For it was in 2004 that their mother, Ranjini Fernando, was swallowed up by the all-engulfing waves that crashed onto the shores of Sri Lanka, including Moratuwa, that fateful morning of December 26.
It was nine-year-old Asitha's tear-streaked face, which became the symbolic face of the tsunami. A year later the family was dealt another blow – their father, Ivan, who was attempting to make ends meet and feed the two younger children fell off the train and succumbed to his injuries.
"Asitha will be in Grade 9 next year," says Ashani while Asitha who is studying at Weera Puran Appu Model School in Moratuwa adds that they have not got their reports yet because the exams were held very late.
While on holiday Asitha has not been idle. Coaxing his brother-in-law to give him some pocket-money, he himself has gone to a hardware, got some sand and cement, come back home and built a nice little pond by the front door, painting it a bright blue. "He is very handy with his hands," smiles Ashani, adding that a neighbour has invited him to build a pond at his home in exchange for a smart shirt he could wear for Christmas mass.
Asitha and his little nephew are also very close. No more walkabouts for this teenager with the town's waifs, playing tik bola (marbles). "He wants to start working, buy a car and take my son in the front seat," laughs the sister indulgently.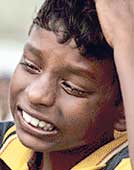 Asitha's tear-streaked face, which became the symbolic face of the tsunami's misery.
Asitha's family lives in a cosy house that a benefactor has bought, with the eldest sister and her husband paying the utility bills while another benefactor sees to all the educational needs of Asitha and also helps out with dry rations.
The family has seen much support from Sr. Jacintha Silva of the Sisters of Charity, Jesus and Mary who has been teaching a craft to Ruwangika in the hope that she can start a small nursery and sell plants, while also opening two savings books for the two children and depositing some funds given by another benefactor.
As we chat, Asitha keeps glancing at the TV screen depicting an action movie but at the same time his eyes slip down the TV stand to a black and white photograph of a simply-clad couple, his father and mother, most probably the one taken when they married.
Life goes on for this boy who is now 13, with the sister and brother-in-law truly giving of their best but one wonders whether somewhere deep down he misses his mother's hugs and his father's rough caresses.
By Kumudini H.
Pinning their hopes on astrology
Major renovations are underway in this house down Somadevi Place in Kirullapone. The main parala holding the roof have been changed and the well right in front of the main door has been filled up.
No preparations for Christmas and New Year, as in most homes, but four years after the tsunami desperate yet hopeful measures to will back a missing little one.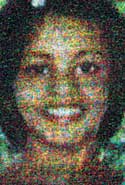 Hiruni
This is Hiruni's home and just last Saturday her parents Nihal and Latha Wanniarachchi have been on the phone with an astrologer from Ratnapura whom a friend had arranged.
The conversation has been enlightening. The friend had been insistent that they divulge no details. "The astrologer even told us the directions to our home," says Latha while Nihal adds that he explained the consultation was about a girl of between 11 and 14 who was lost amidst water….waves.
"You all have done a lot of religious things. Continue, hold more Bodhi pooja," he urged us says Nihal even as they prepare to leave for the temple on Monday night. But the memories of Hiruni cannot be stemmed as also the agonized sighs and the tears.
Hiruni would now be 11 years and four months old, says Latha. Would they be able to recognize her if they see her? May be not, says Latha, adding it would be Hiruni who would be able to identify us while Nihal says, may be not immediately, but certainly after some eye contact, for she is of "our own blood how would we ever forget".
Yes, it's doubly hard for him because at times like this whenever a New Year came around while the elder sister and the mother would be spending hours selecting clothes at House of Fashion it was Thatha and Hiruni Du who would go up and down in the exciting glass lift at her urging, laughing and enjoying the ride.
That's why even without Latha's knowledge many a time he went to Peraliya and cried to the universe asking: 'Why me? Why Hiruni?' while clutching the silparang kotang (sleepers) of the railtrack. The family of four now reduced to three is firm in their belief that Hiruni is alive.
As not only their home but also their lives have changed, they yearn only for one thing – to see Hiruni alive and well.
And the astrologer from Ratnapura has assured them that their innermost wish will come true.... in 21 days.
Awaiting a court decision
Colombo Government Agent J. Sylvester when contacted said that with the monetary allocation of Rs. 500 million released to the Colombo District by the Treasury, the majority of the tsunami affected families were relocated except for about 221 families in Colombo who come under the category of either 'sub-families or those who lived on rent'.
"In keeping to the government's concept of providing a 'house to house' those who had permanent shelter prior to the tsunami were given compensation. As for the sub families, a Court case has been filed in this regard and once a final decision is given we would act accordingly," he said.