Allegations of bribery and corruption levelled against the Colombo Mayor and his deputies and other officials of the Colombo Municipal Council (CMC) will be looked into by a CMC committee next month.
The CMC's audit and management committee, which has not met for more than a year, will be handling the inquiry, said CMC Special Commissioner H. Sumanapala, The committee is expected to meet once a month; however, this has not been the practice for past few years.
"From January 2009, we will be meeting on a monthly basis," Mr. Sumanapala said. "We will be reviewing all charges of bribery and corruption, and petitions."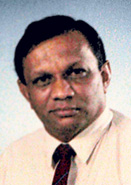 H. Sumanapala
Depending on its findings and the nature of the allegations, the committee will decide whether to call for a general audit, ask for police action or refer the charges to the Bribery Commission.
The committee will comprise a representative from the Attorney General's Department, an internal auditor and department heads.
Mr. Sumanapala, who was put in charge of CMC matters more than a month ago following the council's recent suspension, said that during the past 35 working days he had received a huge volume of complaints of alleged bribery and corruption.
The Attorney General has requested an investigation into, among other things, the case of the 136,000 food parcels that were supposed to have been distributed under the tsunami relief programme. It is alleged that the CMC has not kept a proper record of the consignment of parcels, which were supposed to have cost more than Rs. 80 million.
Meanwhile, the CMC will take steps to a recover a sum totalling Rs. 3.7 billion owed to the CMC since 2007. More than 550 million rupees is to be collected in taxes from 82 entities, including ministries, government departments and government offices.
Mr. Sumanapala said CMC revenue for 2009 was expected to come to Rs. 6,293 million, and that all arrears would be collected by the first quarter of 2009.
"From January to October, the CMC spent more than Rs. 500 million in over-time payments, but the productivity of CMC employees is questionable," he said. "Over-time payments are said to be one of the main corruption charges levelled against the CMC. We hope to introduce the fingerprint system from next month, despite objections from certain trade unions."
Mr. Sumanapala said he had also called for a survey of all unauthorised structures, including restaurants, small hotels and fish stalls. He said a total of 152 infrastructure projects remain incomplete..
"A sum of Rs. 542 million is needed to finish these 152 projects. Priority will be given to completing infrastructure development projects, especially roads. The health sector and the self-employment sector will also be high on our agenda," he said.
A new hotline service – dial 115 – will be introduced on January 1. The hotline service will provide information and receive complaints from the public about CMC services.