The Government is to disarm the feuding factions of the Tamil Makkal Viduthalai Pulikal (TMVP). The move, The Sunday Times learns, is prompted by several reasons. Main among them is said to be the growing internecine rivalry between factions led by Chief Minister Sivanesathurai Chandrakanthan alias Pillayan and National List parliamentarian Vinayagamoorthy Muralitharan alias Karuna.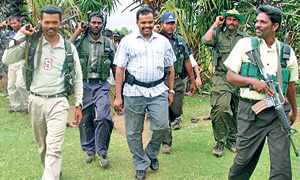 Karuna with his armed guards. Pic Ilakku.com
According to plans now being formulated, personal protection is to be provided by the Police or the Army for senior leaders who face threats. At present both Pillayan and Karuna are assigned Army and Police security contingents.
The Sunday Times learns that the indiscriminate use of firearms by rival factions of the TMVP, particularly in the Eastern Province, has caused concern both for the Armed Forces and the Police. They have complained to the Ministry of Defence about the difficulties they face in the discharge of their duties.
With the disarming of the TMVP, the Ministry of Defence is expected to formulate plans for members of the group to join the police force and serve in areas in the East.
"The disarming process will begin in the next few weeks," an authoritative security source said yesterday.