I was at the underground (Taj Samudra) by 3.30pm for Silent Night Chaos Night, to find the bands still taking sound checks. It was approximately 5pm when the first band finally got on.LOA (www.myspace.com/loamelodeath) played an interesting set. This is a melo death band fronted by Sri Lanka's first female growler who did a fantastic job with her shrieking and growling. And her stage presence had also improved since I last saw her on stage. She interacted well with the crowd this time and pulled off an awesome vocal performance. Unfortunately the rest of the band needs some tightening up to do, especially when covering bands like arch enemy. While the vocalist did a good job, Izzy "Wildchilds" guitar playing especially in the solos of songs like "We will rise" by Arch Enemy was rather poor. It's certainly not enough that a band has a good vocalist.
The bass and drums were pretty tight, except few occasions when I heard drummer Nirodha (Of Sword of the Spirit) go off time and drop tempo etc. they also did a cover of "Revolution is my name" by Pantera. Now we all know that Pantera is not a band one covers unless they're absolutely sure of what their doing with it. I must say though the band did a pretty good job in tackling the song. Not brilliant because there were a few glitches but an ok job nevertheless. In all honesty though I did not enjoy the vocals on the Pantera cover. While Dinelli is a good shrieker/ growler, hearing Phil Anselmo being taken on in only shrieks and growls didn't appeal to me all that much. LOA also played two of their originals. One titled "The eye of the crown" and the other one I can't remember the title. To LOA, good job, but keep working on your stuff, especially the guitars.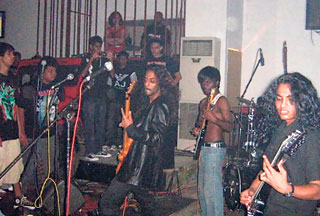 Next up were Hela Black Metallers Funeral in Heaven (www.myspace.com/funeralinheaven) who opened their set with one of their first originals titled "The Origin of Evil" which sounded really good and pumped the crowd up to a marvelous degree.
They then moved to a cover, which was "Mother North" by the band Satyricon. Their other cover was a song called "Sterile Nails and Thunderbowels" by the band Silencer. They did an awesome job with the cover. Very trippy and atmospheric. Leaving the covers aside, they played more of their originals including "The winds of Uva", which is a tribute to those who fought in the rebellion against the British, and also some of their earlier originals. FIH needs no detailed review. Everyone there had a blast watching them and they did an amazing job. Looking forward eagerly to watching these guys play again.
Tantrum (www.myspace.com/tantrumsl) was the next band on the list for the night. This was also their new guitarist's debut gig. A young guy called Malinda who is only 16-years-old and on first glance will catch you by surprise if one was to tell you that he was the new Tantrum guitarist. Well that famous saying about not judging a book by its cover goes for him. He played really well and has a lot of promise. So the best of luck to Malinda and his time in Tantrum.
Tantrum opened with an original titled "Purgatory of sinners." They also played older originals like "The Destroyer" and newer stuff like "Bleeding Compassion," all of which were amazingly tight. Covers by Tantrum for the night were "Angel of Death" by Slayer, "Battery" by Metallica and and "Crystal Mountain" by Death as a tribute to the late great Chuck Schuldiner who's death anniversary was in December. All three covers were pulled off excellently. I especially enjoyed Crystal Mountain. Javeens bass playing was always good anyway but his vocals have improved a lot. Awesome performance by Tantrum. And I think the crowd there would have agreed with me.
Then was a little surprise appearance by Keerthi Fernando of Rattlesnake and later Venom (Metal bands that existed in Sri Lanka during the 70's and 80's) and his daughter Chathurika who did some acoustic renditions of "Tears of the Dragon" by Bruce Dickinson, "Wasting Love" By Iron Maiden, "Catch the Rainbow" By Dio and "Highway to Hell" by AC/ DC. He was accompanied by Andrew from Stigs for a few songs and he also graced us with some tunes from his flute which was pretty different from what we usually see.
And finally there was Stigmata, who started this set with a bit of a seasonal touch with Andrew playing a bit of "Oh come all ye faithful" on the guitar and then moving to that all familiar count from the cymbals which is "Forgiven Forgotten." It was explosive as always and instantly got the crowd moshing and going wild. They also played a number of songs from their first record "Hollow Dreams" like "Voices," "Dezra," "Extinction" and of course that funky anthem "Andura." The new tracks that will be on the next album were also played. Out of these my favourite that night was "Nothing." A tripped-out Prog Metal masterpiece where a listener can dance, mosh, sway with lighters and just watch in awe all in one song. Those were all the things I was doing when they were playing this anyway. "Spiral Coma" and "The Summoning cry of Aries" were also delightfully trippy to watch. "A Dead Rose wails for light," the single that was released on that night as a special Christmas gift from the Stigs was also played.
The covers that the Stigs took on that night made me jump for joy. One was "Fear of the Dark" by Iron Maiden which got me going psychotic seeing as Maiden is my favourite band of all time and also "Painkiller" by Judas Priest, which was also tackled brilliantly. The closer for the night as always was "March of the Saints" (Which is also due to be on their upcoming record) which was as always a fitting climax. Amazing job by the Stigs and the rest of the bands. Hope you keep delivering the way you do for the sake of all of us fans.