Cast: George Clooney, Renée Zellweger, John Krasinski, Jonathan Pryce
Director: George Clooney
Running Time: 114 mins
George Clooney is probably one of the world's best known actors shooting to stardom with the hit TV series ER way back in 1994. He received an Academy Award for Best Supporting Actor for his work in Syriana and was twice voted the sexiest man alive. To me unfortunately he is also the worst Batman to ever appear in front of a camera. However, behind the camera Clooney has remained somewhat exclusive being credited for his directorial work on Confessions of a Dangerous Mind and Good Night and Good Luck both of which are great films with the latter earning him a nomination at the Oscars. Clooney trusts himself this time to play the lead in his latest directorial venture into slapstick screwball comedies in an attempt to pay homage to a long lost genre of some seventy years ago which pioneered a decade of classics.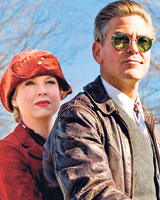 Leatherheads is a romantic comedy set in 1925 America in which professional football is struggling to stay alive with sponsorship pull outs and drop out teams. Dodge Connelly (Clooney), a charismatic forty year old professional football player, has dreams of reviving the sport and shooting his team, the Duluth Bulldogs, to fame and fortune. His first step is to recruit the young College football star and World War (WWI) hero Carter 'The Bullet' Rutherford (John Krasinksi) who has become somewhat of a national icon.
His unparalleled speed on the football pitch soon gains widespread recognition while his superstar persona draws thousands to watch him. However, Lexie Littleton (Renée Zellweger) an over ambitious journalist who's out for the Deputy Editor's post at her Chicago newspaper follows the Bulldogs in their travels in order to prove Rutherford's heroic war story false. Meanwhile, Connelly and Rutherford battle off-field for Littleton's affection while Connelly slowly watches while the sport he tried to revive turns into something entirely different to the unrestrictive game he believed in.
The film is a throwback to a by-gone era of screwball comedies which have seen the likes of classics such as It Happened One Night (1934) and You Can't Take It With You (1938). The film has a sufficient enough dose of charm to forget most of its flaws including the fact that in reality it falls hopelessly short of doing justice to the genre. Clooney and Zellweger are charming on screen together while Krasinski who is better known for his acting in the inferior US version of The Office pulls together to deliver a forgettable performance largely due to his lack of the slightest ounce of charisma. Jonathan Pryce plays the cunning football agent CC who ultimately serves as the only conceivable villain in the story.
The film has quick-paced conversations and is humorous in parts while those who enjoy hidden sexual innuendoes and contemporary screwball dialogue in the way of Gilmore Girls and Intolerable Cruelty will come to love the film for its script. The film also does a great deal to capture the America of the 1920's with plenty of details been scrupulously planned and shot. As far as statements are concerned the film neither attempts to make one of is able of make one unintentionally. It is merely a semi-fictitious story of how one man was able to change the course of one the most loved American sports.
Even though the plot is largely unrelated to non-grid fans the story has enough about it to keep fans of the genre interested. With my personal lack of interest in mediocre romantic comedies however a break in between was necessary to refrain from falling asleep during the film. At the end of the film I realised that I had been mildly entertained by it although I'm not likely to remember much of it in the ensuing months.
By the standards set by Clooney in his previous directorial work and the heights he has reached with his latest roles; directing and playing Dodge Connelly in Leatherheads is no doubt a step down. The film which I'm sure he considers a personal artefact may not be fit for the must-have DVD collection but is mildly lovable and sufficiently charming to be recommended for light watching.