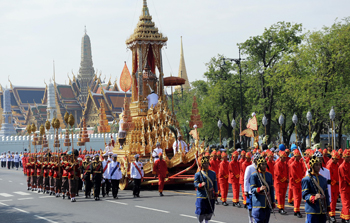 Thai royal officials and military personnel pull the royal chariot during the funeral ceremony
BANGKOK, Nov 15, (AFP) -Tens of thousands of black-clad Thais massed in Bangkok Saturday for the lavish cremation of the king's elder sister, a brief moment of unity for the Buddhist kingdom at a time of political crisis.
Soldiers in crimson ceremonial outfits, buglers and drummers marched solemnly alongside a two-centuries-old golden teak chariot carrying the remains of Princess Galyani on a winding day-long procession.
Galyani, the sister of King Bhumibol Adulyadej, died of cancer on January 2 at the age of 84. Costing at least 300 million baht (8.9 million dollars), it is the first full royal funeral here since 1996.