WASHINGTON, Nov. 15 (AFP) -World leaders gathered here Saturday for a economic crisis summit are to agree to an action plan for reforming financial regulation and will pledge to stimulate the struggling world economy, a source told AFP.
The final communique issued by the leaders here, whose countries represent 85 percent of the world economy, is to commit them to three principles: stimulus efforts, reform of financial regulation and global governance changes.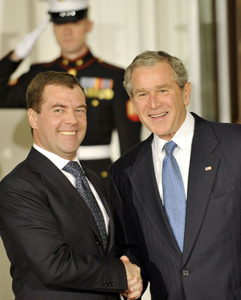 US President George W. Bush welcomes Russian President Dimitry Medvedev at the White House ahead of the G20 meeting on Friday
Few specifics on the reforms are expected at this stage, but the source -- a high-ranking official in the French presidency -- said an action plan with deadlines would be agreed with work to culminate on March 31.
"This text has the essential characteristic, for which we fought for a longtime, of trying to be as concrete and as precise as possible," the source said.
The G20 countries, which includes industrialized nations in Europe and North America, Japan and Australia as well as emerging giants Brazil, Russia, India and China, are to meet again in April at a location that has not been decided, the source said.While weeks ago some had talked expansively about redrawing the financial system in a "Bretton Woods II" overhaul in Washington, few expected concrete proposals this weekend as the summit kicked off on Friday.
There was agreement about the need to prevent a repeat of the crisis, caused by US and European banks taking huge risks that have now turned sour, but little agreement on how this should be achieved.
"We should establish more clear rules for the way global finance works and I think there is a great consensus for this," European Commission chief Jose Manuel Barroso said Friday.
A commitment to coordinate economic stimulus plans was seen as one area for success, with governments able to synchronize tax and spending initiatives to boost flagging confidence among investors and consumers.
A waste of time: Chavez
CARACAS, Nov 14 (Reuters) - Venezuelan President Hugo Chavez said on Friday a meeting of world leaders in Washington on the financial crisis was a waste of time because it excluded the poor and was hosted by the people who caused the problem.
"Really, I don't know what they are going to do in Washington, the host is to blame," Chavez said, referring to Saturday's meeting of the world's 20 richest countries to discuss ways to stimulate the ailing world economy.
"They are going to waste their time," Chavez, an avowed enemy of U.S. President George W. Bush said in a television speech to supporters.