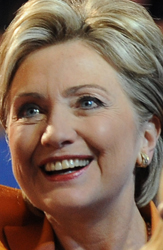 Hillary Clinton
CHICAGO, Nov 14 (Reuters) - U.S. Sen. Hillary Clinton left the door open to becoming secretary of state on Friday, a day after a meeting with President-elect Barack Obama at which a Democratic official said they discussed the job.
Obama's selection of Clinton would be a bold move that would bring into his coming administration a high-profile former rival who had questioned his level of experience and his foreign policy ideas in the Democratic primary battle earlier this year.
In introductory remarks at a speech in Albany, New York, Clinton, wife of former President Bill Clinton, did not confirm or deny that she had a secret meeting with Obama on Thursday.
Democratic officials said the meeting did take place. "I'm not going to speculate or address anything about the president-elect's incoming administration. And I am going to respect his process and any inquiries should be directed to his transition team," Clinton said.
The Obama's transition office in his hometown Chicago refused to comment.