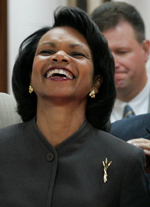 Condoleezza Rice
RAMALLAH, Friday, (AFP) - US Secretary of State Condoleezza Rice said on Friday Palestinians should soon have their own state, though she has made it clear she does not expect a breakthrough before Barack Obama moves into the White House.
"They are dignified people and I am certain the day is coming soon when they have a state that will be in accordance with that great national dignity,"she said after meeting Palestinian president Mahmud Abbas in Ramallah, the West Bank's political capital, before heading later to Jordan.
Rice has nevertheless tacitly admitted that Israel and the Palestinians were unlikely to reach a peace deal by the time US President George W. Bush's mandate ends on January 20, despite earlier pledges to seek agreement by the end of this year.