In 74 days' time as many as two million people are expected to line The Mall in Washington, DC to celebrate the inauguration of America's first black president and join what is expected to be the biggest and wildest public party in the city's history.
President Lincoln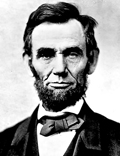 * Abraham Lincoln was the first president to be assassinated, shot on Good Friday at For's Theatre by John Wilkes Booth.
* His mother Nancy died when the family cow ate poisonous mushrooms and she then drank its milk.
* Abe's formal schooling consisted of about 18 months of classes, but he was an avid reader and educated himself.
* At 6ft 4 ins, he was the tallest president.
* He married Mary Todd and they had four boys, but only one of them lived to see his 18th birthday.
* His most memorable piece of oratory was the Gettysburg Address during the American Civil War. "We here highly resolve that these dead shall not have died in vain – that this nation, under God, shall have a new birth of freedom – and that government of the people, by the people, for the people, shall not perish from the earth".
* Lincoln's head is one of the four etched into the granite of Mount Rushmore, alongside George Washington, Thomas Jefferson and Theodore Roosevelt.
Stirring words from Abraham Lincoln, Barack Obama's political hero, will provide the theme for the inauguration ceremonies as the historic handover of power takes place at noon on 20 January 2009.
There will be military escorts for VIPs and extensive security on hand to deal with what is expected to be the largest ever crowd for a presidential inauguration.
Plans for a huge parade in front of the White House are well under way. Reviewing stands are already being built and marching bands are practising for the big day. Hotels have jacked up their prices and are approaching capacity. A $1m (£635,000) 300-room package on offer from the Marriott hotel chain was snapped up earlier this week by an anonymous buyer. The exclusive Ritz-Carlton was filling even as the reservations manager was being interviewed. "Wow, they're jumping, the numbers are jumping!" said Payton Wynne as he watched his screen.
Preparations are also advanced to cater for the heads of state and government who will attend formal ceremonies along with ambassadors, dignitaries and other elected officials. President-elect Obama's family and friends from Chicago will also be in attendance, including Oprah Winfrey who long ago revealed that she had picked out a ball gown for the event.
But great efforts are also being made to ensure that millions of ordinary Americans are made to feel part of the historic ceremony, just as they were included in every stage of Mr Obama's campaign for the presidency. Officials preparing for the inauguration expect crowds well in excess of the 250,000 tickets that are being made available for the event. Early predictions forecast more than two million people crowding the Mall - a vast public thoroughfare - to participate in the celebrations. When George W Bush arrived in town after winning the disputed 2000 election, it was a bitterly cold day and protesters heckled as his cavalcade passed by. But the customary extravagance associated with the inauguration of the world's most powerful politician may be reined in this time in deference to the grim economic outlook and the fact that US soldiers are currently involved in two bitter wars in Iraq and Afghanistan. Mr Obama will be keen not to imitate the first inauguration of Bill Clinton, which was organised by Hillary Clinton and comprised five days of non-stop parties.
Those events were choreographed to fix Americans' attention on Mr Clinton's political hero, Thomas Jefferson, and every effort was made to contrast with the privileged eras of Mr Clinton's White House predecessors, George Bush Snr and Ronald Reagan. But the event turned into a public relations disaster as the bill for the official parties topped $25m, surpassed by George Bush's $40m extravaganza in 2000.
Unlike former presidents, Mr Obama does not have a lobbyists' slush fund to dip into for the parties, and his record of doing things on the cheap are more in tune with today's bleak economic climate.
Mr Obama's advisers are putting much emphasis on the fact that President Lincoln and he were first elected to office in Illinois.
Known as the Great Emancipator, President Lincoln's leadership in the Civil War helped end slavery, and for his election night speech Mr Obama borrowed heavily from Lincoln's Gettysburg Address with his reference to government "of the people, by the people, for the people". "It is especially fitting to celebrate the words of Lincoln as we prepare to inaugurate the first African American president of the United States," said Senator Dianne Feinstein of California.
"On 20 January, as President-elect Obama takes the oath of office, he will look across the National Mall toward the Lincoln Memorial, where many of the 16th president's immortal words are inscribed," said Ms Feinstein, who is in charge of the inauguration ceremonies.
"The swearing-in ceremony continues to symbolise the ideals of renewal, continuity, and unity that he so often expressed," she said, adding that "at a time when our country faces major challenges at home and abroad, it is appropriate to revisit the words of President Lincoln, who strived to bring the nation together by appealing to 'the better angels of our nature'."
- Courtesy The Independent, UK