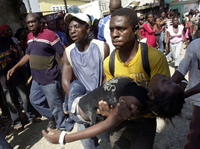 Haitians rescue a victim of the College Promesse Evangelique school collapse
PETION-VILLE, Haiti, Saturday, (AFP)- About 50 schoolchildren and teachers were killed when a shantytown grade school packed with hundreds of students collapsed during classes Friday, a government official said.
The three-story La Promesse (The Promise) school in Petion-ville, on the outskirts of Port-au-Prince, caved in in a heap of cement slabs and twisted steel rods at about 10:00 am (1500 GMT) Friday, trapping scores inside.
By late in the day at around 50 bodies, most of them children, had been found, officials said. "We have counted about 50 dead for the moment, and around 85 injured," said Nadia Lochard of the civil protection bureau.
"But there are still numerous children stuck in the rubble. We have signs that they are still alive and we are organizing help to try to save them," she said.