SriLankan Cares has begun a Rs 51 million project to develop and uplift the standard of education at Debarawewa Primary Navodaya Vidyalaya. The school presently has 3,076 children in Year 1-8, with a staff of 93 teachers, and the project is expected to be of great benefit to the entire Hambantota District. Debarawewa is located a short distance from Tissamaharama. The three-year project will witness the construction of two buildings of three storeys to house 24 furnished classrooms, a fully equipped computer laboratory, a library, and a classroom for differently-abled students.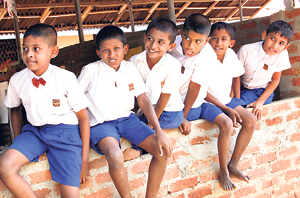 At the school
The school's existing playground will also be developed, the airline charity arm said in a press release.
W.K. Dharmadasa, the school's Principal, said: "This project by SriLankan Airlines will be of immense value to the children of this area. This school serves children from as far away as Kataragama, but we presently have facilities only up to Year 8. SriLankan's efforts will upgrade the school through to Ordinary Level, which will allow our students to continue their education in their own town, and go on to serve the community here, instead of moving to cities as far away as Colombo."
Christie Fernando, Properties Manager (Projects & Planning), said: "Construction is well under way and is progressing at a rapid pace. We are scheduled to complete Phase I and hand over the first building in December 2008."
This is the third school to be adopted by SriLankan Cares Trust. Debarawewa Primary Navodaya Vidyalaya was selected following an extensive inspection of the area's schools. A Memorandum of Understanding has been signed for the project between SriLankan Cares, the Ministry of Education, and the Southern Provincial Ministry of Education.