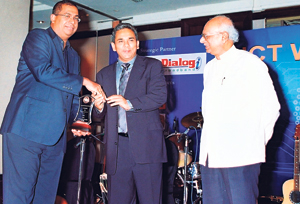 Receiving the award
The Information Communication Technology Agency of Sri Lanka (ICTA) bagged a unique award at the Infotel exhibition award ceremony held recently at Trans Asia Hotel, Colombo.
The ICTA received the award for the best contribution towards dissemination of information. Minister of Science and Technology Professor Tissa Vitharana giving away the trophy to COO, ICTA Reshan Dewapura commended ICTA for their contribution towards naional development using ICT, according to an ICTA statement.
According to statistics more than 10,000 people visited the ICTA stall during the three days at the INFOTEL National ICT exhibition. While this was the 9th Infotel exhibition this was the first time that ICTA participated in an Infotel exhibition.