The Budget for 2009, widely being referred to as 'socialist', saw decreases in fuel and furnace oil prices and decreases in VAT. There were however widespread increases in other taxes including cess. A stunning revelation in the budget was that domesticborrowing which is approximately Rs.183 billion will not be coming from bank sources. The funds which are remaining in state institutes and EPF and ETF may be used for this purpose. According to the budget, the total financing of the deficit is Rs.336 billion while foreign borrowings is Rs.153 billion.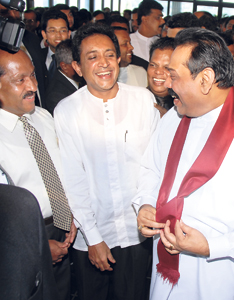 Some light moments after President Mahinda Rajapaksa presented the budget.
On Friday, The Sunday Times FT hosted a panel discussion on the budget at its auditorium with the Deputy Chairman of the Ceylon Chamber of Commerce (CCC) Dr. Anura Ekanayake, Director of MONLAR Sarath Fernando and Economist and Senior Lecturer at the University of Colombo Dr. Sirimal Abeyratne.

Here are excerpts of the discussion
Dr. Ekanayake on budget impact on business:
From a business perspective, some of the proposals taken on by the government were in direct response to address concerns from the business community. Business was primarily concerned on how to face the current challenges, particularly in the industrial and export sectors, energy issues due to rising energy prices, the promotion of domestic agriculture and infrastructure development.
The CCC along with other chambers submitted a joint proposal to the government and Dr. Ekanayake said this year perhaps more than ever, the government showed a willingness to listen to the concerns of the business community. "That's an important development and I hope it will set the tone for the future."
Looking at the budget, Dr. Ekanayake said there has been a willingness to pump in some public money into the export sector by way of perhaps equity funds. Secondly, some of the specific proposals the private sector made on energy pricing have been incorporated such as reducing the price of furnace oil which is directly used in manufacturing. Furnace oil will come down to Rs.45 from Rs.70 or Rs.75. He said furnace oil is used at a 90% level or more for power generation by the Ceylon Electricity Board (CEB). "This will allow the electricity tariff to be brought down. It is a concrete step and will have a positive impact on manufacturing costs."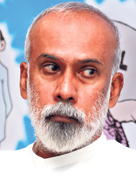 Dr. Anura Ekanayake
Dr. Ekanayake said the commitment to complete the Keralapitiya and Norochcholai power plants were reiterated. There is an increase in protection for agriculture and fertilizer subsidies for paddy farming and tea small holders to help domestic agriculture. Money has been pledged for infrastructure development as well.
However, Dr. Ekanayake questioned if there are trends for lasting solutions on some of the key problems such as maintaining Sri Lanka's competitiveness against other exporters of similar products. Over the last year, the competitiveness of Sri Lankan exports have deteriorated by 20 to 30% due to relatively high inflation compared to competitors.
On the other side, the exchange rate has been kept constant. The margin possible has been narrowing and export industries have been slowing drastically. "If we are consuming imported energy, we have to have money to pay for it," Dr. Ekanayake said.
There is an intention to support smaller scale hydro energy and a task force is to be appointed.
Hopefully some bureaucracy will be reduced to increase hydro energy," he said. Besides tax reductions on solar panels, there were no other significant measures to support alternative energy generation and reducing dependence on imported fuel.
Dr. Ekanayake said there has been increased protection for agriculture but questioned if it was the only was to improve domestic agriculture. "Are there structural issues that need to be addressed," he asked. "I don't see this in the budget proposals."
The budget's intention is continuing public investments on a fairly high level for infrastructure development, approximately 6% of GDP. Whether that intention will be materializing in reality is unknown, according to Dr. Ekanayake, due to doubts of whether revenue estimates can be realized. "We have had a track record every year of revenue estimates falling short and expenditure going beyond," he said. "That's under normal conditions. The second half of this year and 2009 will not be normal conditions globally. Global economic forecasts is that the global economic growth will be sharply down for developing and developed countries. Over the last 6 months, twice or thrice, the major multilaterals revised their growth forecasts downwards and that may happen again. It would have been best for the government to look at ways in which private capital could have been encouraged into capital investment. I don't see anything of that nature in the budget proposals."
On the surface and as a short term balancing act, Dr. Ekanayake said the budget has listened to the voices of the business sector and accommodated some of their immediate request for relief. "The concern is if we are setting a direction for the long term so the endemic problems in the economy can be addressed. I don't see that in the proposal. Given the current global economic scenario, the revenue estimates are far too optimistic. The underlying growth estimates are though to be 6.5%. That would be extremely difficult."
Mr Sarath Fernando on agriculture impact:
The smaller and poorer rural people look at the decisions, plans and strategies of government for the economy in different way, Mr Sarath Fernando said. "We have disagreed with the overall strategy and direction adopted over the last 30 years." He said most consumers are poor and small in Sri Lanka. Over the past 30 years from the time of J.R. Jayawardena, there have been economic problems. "We haven't achieved the type of growth that was expected and throughout this 30 year period even though the government has taken measures to achieve higher growth."
Mr. Fernando said what was expected was that growth would trickle down and reduce poverty. This hasn't happened. "What has happened is a process where the poor were pressed to subsidize the rich. Whether there have been effective change of that strategy is yet to be seen."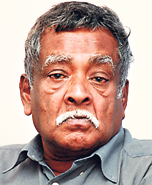 Sarath Fernando
He said visible concessions have been given in the budget such as reduction in fuel prices. However, there are serious questions about whether the reduction was sufficient and whether it was not possible to reduce more. Some incentives have been given to improve agriculture. Considerable emphasis from all parties over the years have been given for the need to strengthen domestic agriculture although this was not a policy at the beginning.
The fertilizer subsidy was a political necessity for the government even though they are now in a difficult situation. Mr. Fernando said if the government looks at strengthening rural agriculture, they could have done much better. Food prices globally have increased 40% over the lat year. However, he pointed out that the increasing prices of essential goods in Sri Lanka such as rice, sugar, wheat and coconuts have in some cases increased by 100% or more. In a country where there are so many statistics on reducing poverty, it is on paper. It is true, he said, that the present government has pumped a lot of money into various rural projects. "Whether it has resulted in reduction of poverty is yet to be seen but I fail to understand how it is so." He added that low birth rate and high malnutrition rates makes the increasing price of essential goods a serious issue. "There is a lot of possibility if the planners think more carefully and are willing to listen to and look at the experiences of people in rural areas," Dr. Fernando said. "There is a lot of possibility of strengthening domestic food production. Cost of production can be reduced." He advocated not only replacing chemical fertilizer with organic fertilizer but also spoke on the viability of soil fertility.
Mr. Fernando said hunger and poverty can be reduced simultaneously dealing with other emerging issues such as global warming and the loss of resources. "We need an approach that depends on the contribution that ordinary people can make. I can't say with assurance that the government is moving in this direction but there is a need to rethink about a completely different approach to the economy. More than growth, all over the world and in Sri Lanka, survival is becoming important."
Dr Sirimal Abeyratne on the economy:
In the overall picture of the budget, there are a few major points to be noted, said Dr. Sirimal Abeyratne. "It's good VAT has come down from 15% to 12% but it is shifting the taxation from VAT to non VAT in a complicated system." There are many taxes in this non VAT system which complicates the collection and calculation of taxes. On the other hand, Dr. Abeyratne said the budget is emphasizing the importance of import substitution in agriculture.
The government also had the advantage of falling fuel prices and brought down fuel costs in the budget but it may not be sufficient enough to be in line with world market prices. However, he said the reduction is going to spread to other areas such as decreasing transportation and distribution costs, bus fares and others.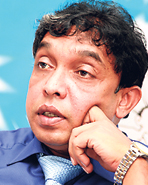 Dr. Sirimal Abeyratne
Some of the fundamental issues mentioned in the budget was the weakness of the public sector in taxation. Other issues were not mentioned such as inflation and how Sri Lanka faces the world economic crisis along with the issues remaining to be addressed in terms of agriculture. The budget also addressed a continuation of state owned enterprises and even perhaps moving into new enterprises. However, Dr. Abeyratne said this might be the best the government can provide given its economic and political philosophy.
Dr. Abeyratne said Sri Lanka hasn't had a good track record in terms of forecasting value and the actual values you see at the end of the day. He added that it is uncertain if revenue and expenditure targets remain as they are forecast in the budget, taking into account the world economic and domestic economic scenario. The exchange rate is likely to depreciate and inflation is likely to rise. One of the main points of the budget was that the government has moved or is planning to move away from banking finance to non banking finance and foreign borrowing. Dr. Abeyratne said foreign financing will add to Sri Lanka's foreign debt burden which is likely to rise in the future. He pointed out that foreign exchange earnings are weak at the moment and that the Central Bank (CB) was trying to keep the exchange rate stable by suing reserves. The CB can no longer sustain it.
Dr. Abeyratne said export promotion is getting weaker. The prices and demand for commodities such as tea, rubber and garments are falling. "The export sector is at a disadvantage. We are depending more on government borrowings and remittances."
The government has addressed the cost of production and infrastructure issues to a certain extent. The private sector is not playing a big role in infrastructure development and will have to depend more and more on our own resources. "Why is the private sector not playing a bigger role in infrastructure development?"
In terms of agriculture, consumer and producer prices are high. "How do we address this imbalance?" Dr. Abeyratne asked. "We should also acknowledge the limitations of expanding agriculture. It cannot be doubled. You can't sustain 8% or 10% growth rates in the long run by growing agriculture." He said small scale farming has major problems not only in Sri Lanka but globally.
"If government succeeds in refraining from domestic bank finance, that may have a positive impact on inflation but the question is if we can keep these things as they are throughout the year," Dr. Abeyratne said. "History has shown us the opposite. When we depend more on foreign borrowings, there will be problems and it may fuel inflation."