CARACAS, Oct 25 (Reuters) - Venezuelan President Hugo Chavez, renowned for colourful insults of world leaders, called U.S. vice presidential candidate Sarah Palin a confused "beauty queen" after she said he was a dictator.
Chavez, a leftist who often mocks U.S. President George W. Bush, invoked the advice of Jesus Christ on how to handle the slights by Palin, the Republican governor of Alaska and a former beauty pageant winner.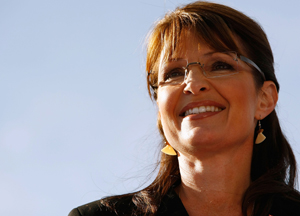 Palin
"I saw the vice presidential candidate, there she was talking about 'the dictator Hugo Chavez.' The poor thing, you just feel sorry for her," he said during a televised broadcast.
"She's a beauty queen that they've pulled out to be a figurehead. We need to say as Christ did: Forgive her, she knows not what she's saying."
Republican presidential candidate John McCain picked Palin, who calls herself a moose-hunting "hockey mom," as his running mate for the Nov. 4 election in a surprise move meant to fire up the party's conservative Christian base.
McCain and his Democratic rival Barack Obama have promised to reduce U.S. dependence on oil from Venezuela, which supplies about 11 percent of total U.S. oil imports.
The highly popular Chavez, who ousted the U.S. ambassador to Venezuela in September, has described the United States as a decadent empire and has revelled in the U.S. financial crisis.