NEW DELHI, Oct 25, 2008 (AFP) - A nun who was allegedly raped during recent anti-Christian violence in eastern India demanded a federal investigation, and accused local police of shielding her attackers.
The nun said she was sexually assaulted by a rioting mob on August 25, days after the murder of a Hindu priest sparked attacks by Hindu extremists on the Christian community in coastal Orissa state.
"They pulled out my sari and one of them stepped on my right hand and another on my left hand and then a third person raped me," said Mina Barwa, who broke down in tears several times while speaking to reporters in New Delhi.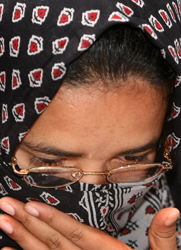 Indian Christian nun Mina Lalita Barwa wipes her tears while addressing media representatives at a press conference in New Delhi on Friday. AFP
Barwa, 29, said she was dragged to a burned-out Christian home where the terrifying crime occurred. She was then beaten with sticks and paraded semi-naked in the streets as mobs threatened to gang rape her. "They had already torn away my blouse and undergarments," she said of her attackers. "And they went on beating me with their hands on my cheeks and head and with sticks on my back."More than half-a-dozen people have been arrested over the incident.
But Barwa, who covered her face with a scarf while speaking with reporters, said she had little faith in local Orissa police.
"State police failed to stop the crimes, failed to protect me from the attackers, they were friendly with the attackers, and they tried their best to make sure that I did not make complaints against police," she said.
"I was raped and now I don't want to be victimised by the Orissa police."At least 35 people died in weeks of anti-Christian attacks in Orissa and nearly 50,000 fled their homes. Many of them remain in state-run shelters. "The conditions in those relief shelters are terrible. There are no toilets and officials say tribal women don't need any toilets," said rights activist John Dayal.
Thousands of people are also living in the forests, unable to return as their houses have been burned down, Dayal said.
"People have no faith in police." Mobs have attacked dozens of churches, prayer halls and Catholic-run schools and burned down scores of Christian homes in the state, which is ruled by a political party allied to the BJP.