ITS, established by an act of parliament in 1984 is the only private Institute of its kind in Tertiary Education in Sri Lanka at the time of its inception, and it has gradually grown to establish itself as a major campus offering not less than ten degree programs. Today it is the Colombo campus of Troy University, USA. ITS has been in constant contact with the universities of developed countries, specially with those of United States of America over the last 25 years, and has maintained curricula and study methods on a par with those of the well known universities of United States.
Up to now, nearly 5,000 students have obtained a high quality university education through ITS either on ITS degree programs or on transfer degree programs to the USA, Canada, Australia, the UK, Singapore and even China. The education program and teaching - learning process at the ITS has evolved with the strong influence and bias from the American System of Higher Education. The semester system with continued assessment gives full flexibility to students in selecting courses of study.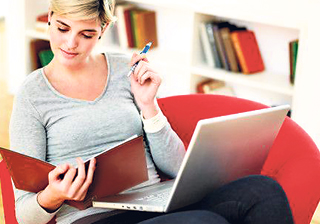 ITS's location in a sprawling acreage in a salubrious environment in the heart of Colombo with easy access and providing modern facilities, well-equipped lecture rooms and laboratories, large library, cafeteria constitute the state-of-art features of a modern campus and ITS has two faculties namely the Faculty of Engineering, Science & Computing and Faculty of Business & Public Administration and a Department of English to fulfill the academic requirements of the undergraduate students. Faculty of Engineering, Science & Computing offers seven Degree Programs in Computer Science (Information/Engineering), three Associate Degree Programs in Science and a strong Foundation Program to select from, for the knowledge seeking students.
Further, a scholarship scheme has been introduced for the students seeking enrolment in Computer related degree programs with the Faculty of Engineering, Science & Computing.
Students who have excelled in games and sports during their school careers are favorably considered for admission. During the last 25 years or so, the diverse accomplishments by ITS's alumni stand distinctly discernible as landmark in ITS's steady progress. ITS has virtually withstood the "Test of Time" - a period of 25 years by any reckoning.
The array of accomplishments as vouched by the alumni of ITS orchestrate loud and clear, its present stature. It is heartening that our transfer students have demonstrated stunning testament by their feats, features and accomplishments in such academic areas as, getting full scholarships, doing double majors and being employed as Research Scholars on completion of the degree programs, and being selected for admissions to Universities like State University of California, State University of New York, University of Boston, and Brandies College, and getting very high scores in the computerized test or written test of TOEFL and SAT, (even getting high scores of 498 out of 500 in 2006), under my tutelage as Head of the Department of English.
Names of "High Fliers" (High Achievers) of our Alumni add numbers to its list every year, featuring not only WHAT ITS has accomplished, but also WHY, ITS students are honored.
In addition, our students have an edge over their counterparts of our State Universities for the following reasons: First, they complete their undergraduate degree program very much earlier than students of State Universities while living with their parents in Sri Lanka and there by saving about Rs. 1.5 million per year, unlike students who study abroad for the full course during the whole period.
Secondly, they get employed easily in the corporate sector of Sri Lanka on five figure salary per month.
Our faculty demonstrates its commitment in no uncertain terms of performing their tasks reflecting the motto, "Technology Today for Tomorrow".
The concept of "Total Quality Management" pervades all its diverse courses and administrative functions of ITS.
Professor. M.U. Jayasekara, a former Dean of Sabaragamuwa University is ITS's CEO and Vice President (Administration) and in all humility, I recall the pithy words of the 20th Century, leading Teacher - Educator, Dr. Lindly Joseph Styles of Harvard University fame and known world over for his advocacy of the concept - "THE BEST SHOULD TEACH", and the words go to say;
"To those to come, I leave the flame,
Hold it as high as you can reach,
If a better world is your aim,
All must agree: THE BEST SHOULD TEACH"
It's my whole - hearted belief that this description fits Professor Jayasekara and the Faculty, carefully selected by the management.
Congratulations!