NUS- the National University of Singapore is the country's flagship university with a proud history of over 100 years. The NUS Business School was launched in 1965 and its MBA programme which has a strong Asian focus while drawing on an international faculty combines the best of East and West.
"An international learning environment," is how Edwin Lim, Manager, Marketing and Admissions at the MBA Programs Office describes it, adding that the students themselves are indicative of this, with over 90 percent being foreign.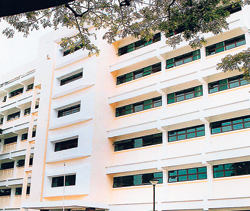 The SP Jain campus in singapore
A key strength of the NUS Business School, Mr. Lim outlines is that its faculty has a strong research background. A survey done by the University of Texas in 2007 ranked NUS as the fourth worldwide outside North America for business research. Other rankings reflect its global standing.
The NUS MBA gives students the option of following a general MBA covering a wide range of disciplines or an MBA which offers specializations in one of five different fields- Marketing, Finance, Strategy & Organisation, Real Estate and Healthcare Management. The MBA student has the option of doing a 12-month course (accelerated programme) or 17 months in which they can spend additional semesters on student exchange programmes at their partner universities or take up internships at leading companies.
Ranmali Kirinde who worked as a software engineer and latterly on project management at Virtuosa Corporation after earning her first degree from the University of Colombo, has just completed her MBA at NUS. While having the option of doing a local MBA part-time she felt she would gain more taking time off to be a full-time student. "It's really a good accredited programme. The education system is different to what we have back home. We do a lot of group work, case studies- from schools like Harvard," she said.
NUS also offers an MBA Double Degree with Peking University, that is conducted in Singapore and Beijing, the S3 Asia MBA- a tri-country MBA to give students an insight into three Asian economic powerhouses- conducted with Fudan University, Shanghai and the Korea University Business School and a very recent addition - the double MBA with the Lee Kuan Yew School of Public Policy. This is aimed at students looking to gain knowledge in both business and government.
"92 per cent of our MBA graduates found jobs within three months," said Edwin Lim, adding that the NUS career office is dedicated to helping graduates along their career path.
Quite naturally, competition is stiff for entry. Last year of 5,800 applications received, 700 were interviewed and 200 accepted for the programme. "We look at the overall profile of the student when selecting, not just the GMAT score," said Mr. Lim. "The interview session would also count." The interviews are conducted on the phone if NUS representatives are not available in the country. Applications are done online from October to March for the August 2009 intake.
Website: mba.nus.edu
Well known Indian management institute S.P. Jain Center of Management took up residence in Singapore two and a half years ago opening up a large campus on invitation from
Singapore's Economic Development Board under their Global Schoolhouse project. SP Jain offers a one -year MBA - A Global Masters in Business programme which is conducted in conjunction with their campus in Dubai where students spend six months in each campus. "Thereby they get more global exposure," says Mr. Suresh Kumar, Vice President, Corporate Relations.

The new NUS Business School building scheduled to be opened in 2009
The demand is high, he continues, with some 5,000 students applying for each intake. They have two intakes a year, of 250 students each time.
About three years work experience is required and the selection process involves aptitude tests and interviews. The course itself is rigorous. "No vacations, no breaks, except for Deepavali," he smiles, explaining that students however, live on campus and thus have time for recreation.
Close links with industry with many senior professionals coming in for lectures are seen as one of the course strengths. "We have a 'Visiting Wisdom CEO' series where people from the industry come in to share their expertise. Corporates are invited to come in before the end of the course for recruitment (from Singapore, Hong Kong, China, India, the Middle East) so there is active help for students to secure jobs. "We have 100% placement," Mr. Kumar adds.
Under the GMBA, SP Jain offers nine specializations- three under finance, three in marketing, plus IT technology management, HR management, Global logistics and supply chain management.
Currently with a 90 % Indian student population, SP Jain is looking to attract a more diverse student mix and has some scholarships on offer.
Website: www.spjain.org
Next week: INSEAD and SMU