The Ranmin Bungalow, popularly known as Bolgoda Resort, is an exclusive boutique type luxury holiday bungalow which is located on the banks of the Bolgoda Lake. 'Ranmin' is located at No 9, Thuduwa, Dampe, Piliyandala, just a 30 minute drive from Colombo and ten minutes from Moratuwa.
Initially built as a private holiday bungalow, Ranmin is a two bed room holiday house designed to have a quite getaway. It was a private bungalow, but the proprietor Ruwan Fernando has now decided to accept bookings on a selective basis. Because the bungalow is for family or small group vacations' said Priyantha Hewage, the Manager of the hotel.
The rustic eco friendly design combined with 19th century furniture gives one a totally blissful living experience. The Bungalow is available for day outings of small groups or weekend getaway of families.
'The swim in a large pool and enjoy the only possible natural location of mangroves in the area. The place is famous for utmost privacy, which is considered to be the best in the area and is approachable from a number of main roads; Priyantha said.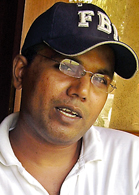 Priyantha Hewage
Large living and dining area on split levels. Ranmin Bungalow has two bedrooms with air - conditioning and large 19th century beds which hold up to three persons. Satellite TV, fully equipped kitchen and Barbeque facilities are some of the attractions of the resort.
'We generally let the whole bungalow and no individual rooms are given. Apart from the bungalow keeper, no food will be served. Fully equipped kitchen can be utilized for cooking' he added.
To ensure guests have a variety in the choice of meals, catering is outsourced to selected tried and tested caterers in the area. Guests are also offered the choice of meals from any restaurant in Colombo with a free delivery service.
Also the Resort is popular with 'Day outings' and 'overnight stays', small Weddings, Office get-togethers, small Seminars, kiddies parties not exceeding 40 pax.
The charges during the weekdays are Rs 6500/- to 7500/- and weekends are 9000/- to Rs 10000/-. For more details log on to Bolgodaresort.com