Randhir, the country's latest Hip-Hop artiste who released his debut album 'Namal Mitak', had a performance at German Cultural Centre, Colombo in collaboration with his selection to represent Sri Lanka as the country's Dance and Electronic Music Ambassador at Germany's C/O POP Music Festival.
C/O POP is the world's biggest dance music festival and is held in the city of Cologne, Germany and it attracts popular dance music artistes and music experts from across the world. Randhir's appearance at EUROPAREISE is a historical event for Sri Lanka's music industry as it's the first time the world's biggest dance music festival has seen any representation from Sri Lanka. Randhir's tour of EUROPAREISE was coordinated by the 'Goethe Institute' - The German Cultural Institute in Colombo.
Last month Randhir's released his debut album 'Namal Mitak' through Universal Music/M Entertainment. The album contains a total of 14 songs [12 in Sinhalese and 2 in English] including 'Namal Mitak', 'Upuli', 'Ojaye [Remix]' and 'Kelilola Balmen'.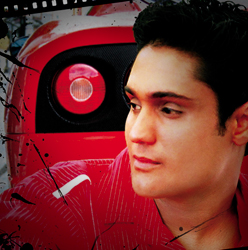 'Namal Mitak' is produced by Bathiya & Santhush and it is co-produced by Sri Shyamalangan and features some of Sri Lanka's well known lyricists including Kelum Srimal, Nilar N Casim, Vasantha Dukgannarala and Upul Shantha Sannasgala. Randhir's 'Namal Mitak' also features the musical directions of veteran music composer Navarathna Gamage and the talented young Sachith Peiris The album also includes some exciting collaborations with guest artistes such as Umara, Bathiya and Santhush, Tamil Hip-Hop artist Krishan Maheson and Germany-based Sri Lankan musician Orry Athurugiriya.
Randhir began his professional music career in 1999 with pop super group Bathiya & Santhush featuring on their hit song 'Siri Sangabodhi'. During his music career Randhir has featured on some of Sri Lanka's most memorable number-one hits such as 'Siri Sangabodhi' [Bathiya & Santhush], 'Neththara' [Bathiya & Santhush], 'Res Vihidhena Samanaliyak' [Bathiya & Santhush] and 'Alawanthiyak' [Ashanthi].
Born in Sri Lanka, he pursued his higher studies in Auckland, New Zealand. Randhir currently holds a bachelor's degree in mass communication and also works as an award-winning music video director for Sarigama Productions - one of Sri Lanka's most creative production houses.