Get Smart (2008)
Cast: Steve Carell, Anne Hathaway, Alan Arkin, Dwayne Johnson, James Caan
Director: Peter Segal
Running Time: 110 mins
Steve Carell is back with his newest comedy titled Get Smart in which he plays Mexwell Smart, an uptight analyst for a top secret American intelligence organization called CONTROL. Following Carell's successes with films like Little Miss Sunshine and Evan Almighty and with director Peter Segal's comedic reputation established with Adam Sandler collaborations including The Longest Yard and 50 First Dates there was certainly some promise of a memorable comedy.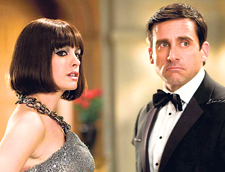 After the evil terrorist organization KAOS attacks the CONTROL headquarters and seeks valuable information on all its agents exposing them to attacks all around the world the Chief of CONTROL (Alan Arkin) appoints Smart (Agent 86) to carry out a mission against KAOS. He is joined by battle-hardened CONTROL agent 99 played by Anne Hathaway (The Devil Wears Prada) who had just received extensive plastic surgery to her face thus protecting her identity from the terrorists. Together they travel to Russia (predictably) on an intelligence mission to bring down arch-nemesis and leader of KAOS, Siegfried (Terrence Stamp) before he distributes his nuclear arsenal to terrorist organizations around the world.
Having heard of its story I expected to stumble upon a Johnny English rip off film in which the clumsy secret agent finds a way in which to take down the bad guy, get the girl and affectively not kill himself in the process. However, the character played by Carell is inconsistent even in that regard.
Maxwell Smart is certainly not a completely incompetent agent even though a few of his actions would beg to defer. The character is actually quite adept at being a secret undercover agent and was only denied the position earlier due to his fitness problems and even greater prowess in drafting very boring but detailed intelligence reports for CONTROL. Steve Carell certainly does have his funny moments but unfortunately cannot seem to get over his over-shadowed supporting actor syndrome. He just doesn't seem to command the sense of presence that is needed for a lead role. His humour is certainly different to that of the likes of Jim Carrey or Adam Sandler but it pales in terms of commanding attention.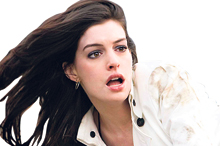 Anne Hathaway who plays Agent 99 is certainly predictably annoying in the beginning but doesn't take too long to warm up to Smart. Her character was boring and didn't contribute a single iota of humour to the film. She was primarily a necessity in way of the ultimate prize for Agent Smart at the end of the film. Dwayne Johnson plays the role of CONTROL's most talented field agent and Smart's idol, Agent 23 who is forced to watch from the sidelines as Smart and Agent 99 leave to Russia. He acts beside another wrestler turned actor Dulip Singh better known as the Great Khali who plays an oversized enforcer to Siegfried. Dwayne 'The Rock' Johnson is surprisingly tolerable in Get Smart and actually does a decent job with another predictable character while Singh looks as dim-witted as his character is meant to be so carries his role with great aplomb.
Alan Arkin who collaborated with Carell previously in Little Miss Sunshine does a pretty good job as the Chief of Control in which a physical fight with the Vice President should be highlighted. Arkin is a great comedic actor as he proved in his Academy Award Winning performance in Little Miss Sunshine and brings some of his sarcasm and wit into Get Smart but then again how much is too much when playing in such simple roles? James Caan should be noted for a hilarious cameo as a George W. Bush like American President. Bill Murray also makes a very brief appearance as the agent in the tree while evil-terrorist typecast Terrence Stamp brings some much needed sarcasm and wit into the script.
The film will no doubt get a few laughs from its audience as it certainly holds some funny moments and scenes. Director Segal shows his experience in piecing together satisfactory light films for casual audiences and does a decent job of Get Smart. However, the film is undoubtedly forgettable and predictable as most of Carell's films and actually lacks a lasting impression or powerful performance by which the film could be identified with. It's neither memorable nor a side-splitter but Get Smart is certainly entertaining and definitely a fun little film to watch on a lazy afternoon.