Happenstance has brought Japanese pianist Masahiko Shinohara to Sri Lanka to give a series of concerts here in the coming weeks. Mr. Shinohara neatly counterpoints his life as a concert artist with his love of travel, fitting public and private concerts into an annual travel itinerary that weaves its way around the world. He has visited 45 countries so far, and revisits lands that have a particular resonance for him. India, Sri Lanka, North Africa and France are some of his favourite destinations.
Much of the musician's travels have less to do with music and more to do with a personal spiritual quest. Although he does not call himself a Buddhist as such, he loves the Buddhist ambience of Sri Lanka, and devotes long segments of his time in this country to meditation in faraway temples.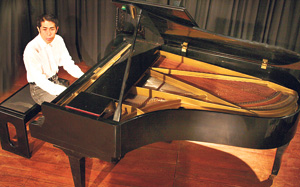 Masahiko Shinohara on his third visit to Sri Lanka.
This is Mr. Shinohara's third visit to Sri Lanka, and this time he is here to travel and meditate and also give concerts. He will appear in one private and three public concerts over the next couple of weeks.
He is amused to hear that "serendipity" – that exotically flavoured English word to describe a happy chance occurrence or discovery – is rooted in "Serendib", one of the old names for Sri Lanka. The circumstances surrounding his presence in the country on this occasion are serendipitous in the purest sense.
The Sri Lanka concerts are the outcome of a visit to Nepal 10 years ago, where the pianist met a fellow music-lover, a German, who now happens to be living in Sri Lanka. The Nepal and the Sri Lanka encounters both took place by chance.
"When I go travelling, it is as much to give concerts as to see places and have new experiences," the pianist says. "I was in Nepal as a backpacker in 1998, and I was staying in a cheap hotel in Katmandu. A Canadian I met there asked me what I did, and when I said I played piano, he said he would like to hear me. So we went to an up-market hotel, where they had a piano, and I played for him. There was a local musician, a violinist, who happened to be in the lobby of the hotel. He came up and invited the two of us to attend one of his music get-togethers, to make music and meet fellow music-lovers. And so, a few days later, we attended a soiree, where I played a Beethoven sonata, the C minor, Opus 111, the last of Beethoven's 32 piano sonatas. It is a very profound work, and not for amateur pianists. A German lady in the audience came up to me and insisted I give a concert at the British Embassy. I agreed, and the private recital took place a week or two later."Ten years later I bumped into this same German lady, Nene Pilzer, in an internet café in Mount Lavinia. I had come to Sri Lanka to meditate. I wanted to spend a couple of months in a Buddhist temple. After two weeks in a temple in Kandy, I came down to Colombo in order to be near the ocean. I took a room in a guesthouse in Mount Lavinia. It was there that I met Nene again. It was quite extraordinary!"
The chance encounter between the German and the Japanese resulted in a conversation that sounded like a reprise of the conversation they had had a decade earlier, in Katmandu. Would Mr. Masahiko Shinohara be interested in giving a private concert, this time in Colombo? The answer was: Why not? A week later, the pianist was performing before a select audience of 20 people at a private venue. In the audience was violinist and conductor Lakshman Joseph de Saram, who was so overwhelmed by the pianist's superior artistry that he went up to him and asked if he would like to perform with his chamber music group.
The pianist consented, and five months later he is back again in Sri Lanka, rehearsing five days a week with the Chamber Music Society of Colombo, preparing for next week's concerts. Mr. Shinohara will perform the Mozart Piano Concerto in E flat, No. 14, K. 449.
"I discovered the E-flat major concerto when I was 19 years old. I fell in love with it. It was not a very happy time for me, as I recall, and Mozart was a kind of consolation. That summer I decided I wanted to spend a week away from the piano. I went to a small island off the coast of Japan. It was wonderful to be so close to nature. To me, the music of Mozart seems very much in tune and in syn with the vibrations of nature, and the sound of this planet."
Once Mr. Shinohara has completed his concert series in Colombo (he is also scheduled to give a solo recital in early October), he will be getting back to nature. He plans to revisit the Aranya temple, set in the middle of a jungle in the deep south, tha the visited on his first visit to Sri Lanka, 10 years ago. He spent five months in the temple, meditating and just enjoying being disconnected from the rest of the world. No keyboard, no laptop, no mobile phone.
"I associate Sri Lanka with the sounds of the waves in the ocean and the sounds of the jungle. In the temple I am surrounded by the music of birds and insects. And there is all that silence too. By day it is the sound of birds, and at night it is the sounds of insects, and the light of the fireflies. When I live in a temple, I am very quiet. I do not eat much. The meaning of meditation, to me, is to go back into myself, to be absorbed in the idea of existence.
"I do not necessarily see a connection between my life of meditation and my life of music. But sometimes I feel that living in the middle of nature, in a place like Sri Lanka, is like living in the middle of the slow movement of a Mozart piano concerto. There is a sense of spirituality, of the divine." When Mr. Shinohara is done with his concerts in Colombo, he will be putting his backpack together and heading south to meet his monk friends. He has no fixed timetable for his stay in the temple in the jungle. It could be a week, it could be six months, or more. When it is time to go, he will know – just as we know when the slow movement of a Mozart piano concerto is drawing to a close.